The item illustrated and described below is sold, but we have another example in stock. To view the example which is currently being offered for sale, click the "View Details" button below.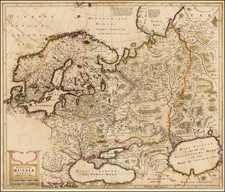 1635 Henricus Hondius
$875.00
Description
Decorative example of the Mercator-Hondius map of the Russian Empire and Scandinavia , based upon the maps and information brought back to the Netherlands, by Issac Massa.
Isaac Abrahamszoon Massa (1586-1643), was a Dutch grain trader, traveller and diplomat, the envoy to Muscovy, and author of memoirs witnessing the Time of Troubles and the maps of Eastern Europe and Siberia. Isaac Massa was born into a wealthy silk merchant's family. In 1601, Isaac left Haarlem for Moscow, to assist the family trade. Isaac was witness to the second half of Boris Godunov's reign, that evolved into a civil war now known as the Time of Troubles. He survived the capture of Moscow by False Dmitriy I and left Russia in 1609, before the fall of Czar Vasily Shuysky. Massa compiled an account of the 1601-1609 events, presented to Stadtholder Maurice and reproduced in print, in the nineteenth century. In 1612-1613, Massa published two articles on Russian events and the geography of the Land of Samoyeds, accompanied with a map of Russia, in an almanac edited by Hessel Gerritsz. His notes on his various travels have been published in conjunction with maps by Henry Hudson.
Massa is credited with five published maps of Russia and its provinces and two maps of Moscow city, including the schematic account of the 1606 battle between Vasily Shuysky and Ivan Bolotnikov's armies. Massa's rendition of the Siberian coast represented an advance in geography and for decades remained the only map of this region. It was subsequently copied by Gerardus Mercator and Jodocus Hondius, Jan Janssonius and Willem Blaeu.
Henricus Hondius Biography
Henricus Hondius (1597-1651) was a Dutch engraver and mapmaker, a member of a prominent cartographic family. His father, Jodocus Hondius, was also an engraver and geographer. While working with his father, Henricus was instrumental in the expansion and republishing of Mercator's atlas, first published in 1595 and republished by Hondius in 1606.
Upon his father's death in 1612, Henricus and his brother, Jodocus the Younger, took over the business. He set up his own shop in 1621, where he continued to release new editions of the Mercator atlas. Later, he partnered with his brother-in-law, Jan Janssonius, in continuing to expand and publish Mercator's atlas, which would become known as the Mercator-Hondius-Janssonius atlas. Born and based in Amsterdam, he died there in 1651.