The item illustrated and described below is sold, but we have another example in stock. To view the example which is currently being offered for sale, click the "View Details" button below.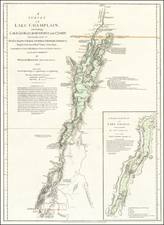 1776 Robert Sayer & John Bennett
$6,500.00
Description
Important Revolutionary War Period map of Lake Champlain & Lake George, based upon William Brassier's survey of the region during the French & Indian War.
Sayer & Bennett's map is the first separately published map to focus on Lake Champlain and Lake George. Extending from Fort William Henry (Fort George and Skenesborough in the south, this large format detailed chart of Lake Champlain was based on the survey made by Brassier during 1758 and 1759, while he was employed by John Montressor as both a surveyor and draughtsman. A number of the names have been changed, Ticonderoga was formerly Fort Carillon, Fort George and Fort William now feature as does Lake George (named after the British monarch in 1755).
Brassier's survey remained in manuscript form until the outset of the American Revolution. It was then engraved and first issued in Jeffery's American Atlas. Shortly afterwards the second state was published in Sayer and Bennett's American Military Pocket Atlas - the so-called Holster Atlas.
Offered here is the preferred second state (although the date of August 5, 1776 remains unchanged), the map shows the engagement of the British and American Fleets off the Isle of Valcour on October 11, 1776, their movements down the river, and a second engagement off Crown Point on October 13, 1776, with lettered references.
The inset Plan of Lake George illustrates America's first naval battle, in which General Benedict Arnold attacked the British and while forced back to the south, was able to delay the British attempt to descend to the Hudson for that year.
No mention is made of Ethan Allen's taking of Fort Ticonderoga in 1775.
Condition Description
Minor fold split, repaired on verso (left side, just entereing print image)
Reference
Guthorn British Maps of the American Revolution p.14, number 12.4; Fite & Freeman A Book of Old Maps pp.212-216; Nebenzahl, Atlas of the American Revolution, pp. 61-63; Schwartz & Ehrenberg p.190; Seller & Van Ee 1071 & 1073; Stevens 25(b).
Robert Sayer Biography
Robert Sayer (ca. 1724-1794) was a prominent London map publisher. Robert's father was a lawyer, but his older brother married Mary Overton, the widow of prominent mapmaker Philip Overton and the proprietor of his shop after his death. Mary continued the business for roughly a year after her marriage and then, in early 1748, it passed to Robert. Robert became a freeman of the Stationers' Company later that year; his first advertisement as an independent publisher was released in December.
Sayer benefited from Overton's considerable stock, which included the plates of John Senex. In the 1750s, Sayer specialized in design books and topographical prints, as well as comic mezzotints. In 1753, he, along with John Roque, published a new edition of Thomas Read's Small British Atlas, the first of several county atlases that Sayer would publish.
Sayer's business continued to grow. In 1760 he moved further down Fleet Street to larger premises at 53 Fleet Street. In 1766, he acquired Thomas Jefferys' stock when the latter went bankrupt. In 1774, he entered into a partnership with John Bennett, his former apprentice. The pair specialized in American atlases, based on the work of Jefferys. They also began publishing navigational charts in the 1780s and quickly became the largest supplier of British charts in the trade.
Bennett's mental health declined, and the partnership ended in 1784. As Sayer aged, he relied on his employees Robert Laurie and James Whittle, who eventually succeeded him. He spent more and more time at his house in Richmond. In 1794, he died in Bath.
John Bennett Biography
John Bennett (fl. 1760-d. 1787) was a London printer best known for his role in the successful partnership of Sayer & Bennett. In 1760, Bennett became a servant of Robert Sayer (ca. 1724-1794), the prominent print and map seller, and was apprenticed to him in 1765. In 1774, Bennett became a free journeyman and entered into a partnership with Sayer. They issued joint advertisements and publications. In 1777, Bennett owned 1/3 share in the business. The partnership was likely to continue fruitfully, but in 1781 Bennett began to show signs of mental illness. In 1783, he was admitted to an asylum for nine months and, in 1784, Sayer filed papers to dissolve their business partnership. Bennett died in 1787.