John Haviland was American architect who was a major figure in American Neo-Classical architecture, and one of the most notable architects working from Philadelphia in the 19th century.
In 1811, Haviland was apprenticed to an architect in London. In 1815, Haviland tried unsuccessfully to obtain an appointment to the Russian Imperial Corps of Engineers. While in Russia, he met George von Sonntag and John Quincy Adams, who encouraged him to work in the United States.
Haviland moved to Philadelphia in 1816, one of the few formally trained professional architects working in the city at the time. Between 1818 and 1821, Haviland published The Builder's Assistant, one of the earliest architectural pattern books written and published in North America.
Haviland began to secure what would be his most important commissions in Philadelphia, including the Eastern State Penitentiary, the Pennsylvania Institution for the Deaf and Dumb (now Dorrance Hamilton Hall, University of the Arts), and the original Franklin Institute building (now home to the Atwater Kent Museum).
During this time, Haviland unwisely speculated in his own projects, including commercial arcades in Philadelphia and New York, as well as an amusement park. He was eventually forced into bankruptcy, tarnishing his professional reputation in Philadelphia.
Haviland was an Honorary and Corresponding Member of the Royal Institute of British Architects. In 1827, he was elected into the National Academy of Design as an Honorary Academician.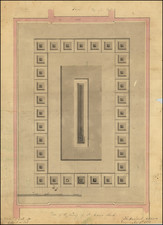 Place/Date:
Philadelphia / 1822
Size:
15.75 x 21.25 inches Entire Sheet