Joan Martines was cosmographer who lived and worked Messina (Sicily, Italy) from 1556-1587.
Martine's place of birth is unclear. Most historians believe Martines to be of hspanic ancestry, possibly Mallorcan, Valencian or possibly Catalan and most probably of converted Jewish parents. Uzielli and Nordenskiold concluded that he was Sicilian. In 1591 he moved to Naples after his becoming the Royal Cartographer by Philip II of Spain.
A number of Martines' charts survive in institutional collections. A number of single sheet portolans are known in his hand, but he is perhaps most famous for his portolan atlases. The earliest surviving atlas dates from 1556.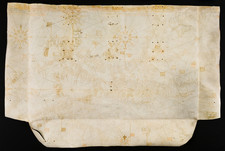 Place/Date:
Messina (?) / 1567 circa
Condition:
See Description