The following is excepted from the Texas State Historical Association on line Biography:
. . . Republic of Texas treasurer, land agent, banker, and Confederate officia. . . . He moved to Georgia in 1832 and practiced medicine at McDonough and later at Pleasant Grove. He and his wife, the former Harriet J. Johnson (daughter of Samuel Johnson), moved to Nacogdoches, Texas, on January 17, 1837, with other Georgians.

On December 14, 1837, the Texas Congress established the General Land Office, and President Sam Houston selected Starr as president of the board of land commissioners and receiver of the land dues for Nacogdoches County. On May 25, 1839, President Mirabeau B. Lamar appointed Starr secretary of the Texas treasury. For financial reasons he asked permission to resign as treasurer on May 30, 1839, and his resignation was accepted on August 31, 1840, after which he began to administer the estate of his brother-in-law, Frost Thorn.

Starr became a land agent for those who exchanged land for Republic of Texas debts, and he supported the annexation of Texas to the United States. . . In 1844 he became a land agent in partnership with Nathaniel C. Amory. Due to Starr's reputation as an authority on Texas land laws, the agency grew and served as a bureau for advertising Texas land to prospective settlers from all parts of the United States. Starr and Amory remained partners until 1858, when Amory returned to Boston. . . Starr was opposed to secession and the election of delegates to the Secession Convention, but like many other Texans supported the Texas Confederate state government. His sons, Frank and Amory Starr, and son-in-law, Henry W. Raguet, volunteered for Confederate service and served in the New Mexico campaign. After the Congress of the Confederate States passed the Sequestration Act in 1861, Starr was appointed to act as a receiver in the enforcement of the laws and served until 1864. In 1863 he was appointed Confederate agent for the postal service west of the Mississippi River. His public career ended with the surrender of the Southern armies in 1865.

In 1868 Starr formed James H. Starr and Son, a land and banking agency, in Marshall, one of the first banks in Texas. He moved his family to Marshall in 1870, and he and Frank Starr retired in 1873, when Amory Reily Starr gained control of the family firm. J. H. Starr spent the later part of his life at his home in Marshall, and continued to advise clients on Texas land. He was offered appointment as one of the first regents of the University of Texas but declined due to poor health.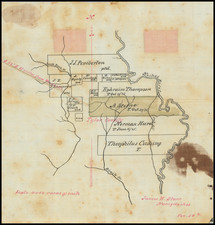 Place/Date:
Nacodoches, Texas / 1867
Size:
7 x 7 inches (map image)