Purcell was born in Dublin and studied with John Brooks. While resident in Dublin, he signed his prints R. Purcelle.
In 1755, he moved to London, where he apparently ran into hard times because of an extravagent lifestyle, which forced him to primarily work for print-sellers, such as Richard Sayer.
Some of his work includes caricatures and satirical work. He frequently signed his name Chas. Corbut or C.Corbutt, a name he may have taken on to hide from creditors.
---
Archived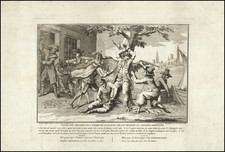 Place/Date:
London / 1778 - 1779 circa