Adolf Bock (1890-1968) was one of Europe's best regarded marine painters.
Born in Berlin, he studied at the Royal School of Applied Arts and at the Art Academy Berlin.
From 1919-1939, Bock worked in Finland, producing a large number of post cards between 1932 and 1936, published by Tilgmann, in Kuvataide Oy and abroad.
By World War II he was again in Germany, where he was a member of Verein Berliner Künstler (the Association of Berlin Artists) and painted a number of naval battle scenes. In 1944, Adolf Hitler awarded Bock the title of professor, the only such appointment made by Hitler during WWII.
He was a passenger on the steamer Wilhelm Gustloff, which sunk in January 1945, but was rescued. .
Several books have been written about Bock, including a bigraphby Hans-Walter Hansen and titled, "Marine Painter, ADOLF BOCK: Life and Work" in 2001.
---
Archived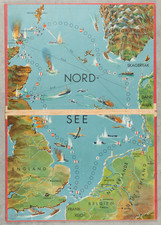 Place/Date:
n.p. (Germany) / 1941