John Reid came to Australia in 1853, where he worked for a decade as an engineer in the goldfields of Victoria.
In 1863, he began coming to Otago as the agent of several commercial ventures. He started acquiring farm land in North Otago in 1865, creating Elderslie, an estate named for the birthplace of the 13th Century Scotish Revolutionary hero William Wallace. Elderslie would go on to become the largest estate in Otago.
Within a few decades, Reid was the largest land owner in North Otago, and later becoming involved in the development of refrigerated shipping between Britain and Oamaru. Its inaugural voyage in 1884 carried 23,000 frozen sheep carcasses and was a great success.
---
Archived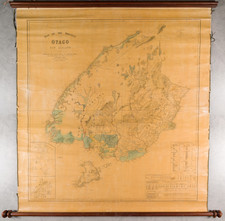 Place/Date:
Melbourne / 1860
Size:
34.25 x 36.25 inches