Juan Caramuel y Lobkowitz was a Spanish Catholic scholastic philosopher, ecclesiastic, mathematician and writer.
During his lifteime, he was in active correspondence with famous scholars, including philosophers René Descartes and Pierre Gassendi; the Jesuit polymath Athanasius Kircher; the Czech Capuchin friar and astronomer Anton Maria Schyrleus of Rheita, the Bohemian doctor Jan Marek Marci, Pope Alexander VII (Fabio Chigi), who was a great admirer of his work; the Belgian astronomer Godefroy Wendelin, the theologians Franciscus Bonae Spei and Antonino Diana, Giovanni Battista Hodierna, Johannes Hevelius, Valerianus Magnus, Juan Eusebio Nieremberg, and many others.
Juan Caramuel was born in Madrid in 1606, the son of Count Lorenzo Caramuele and Caterina Frissea von Lobkowitz, a descendant of a German princely family.
Caramuel was a young scholar, exploring problems in mathematics and even publishing astronomical tables at the age of ten, Camuelis primus calamus (Madrid 1617). He was received into the Cistercian Order at the monastery of La Espina, in the diocese of Palencia in 1625. He served in the monastery of Montederramo (diocese of Orense), then Santa María del Destierro (Salamanca), where he completed his studies. He then taught in houses in Alcala, Palazuelos, and Salamanca. He then travelled to Portugal to continue his studies of eastern languages, and from there he moved to the Low Countries (the Spanish Netherlands), where he resided from 1635 to 1644.
His sermons attracted the favorable attention of the Infante Ferdinand, Governor of the Low Countries, while he was attached to the monastery of Dunes in Flanders. He assisted Don Ferdinand in the defense of the city of Louvain from the attacks of the French and the Dutch, as engineer and chief of works, for which Don Ferdinand appointed him court preacher. Through Don Ferdinand, Caramuel became friends with Marie de' Medici, the exiled former queen-mother of France, who lived in Brussels. Through Marie's influence, Caramuel was appointed Vicar General of the Carthusians in England, Ireland, and Scotland; and named Abbot of Melrose.
In 1641, Philip IV of Spain made him his envoy to the court of Emperor Ferdinand III whose court was residing in Prague at the time. He was in turn Abbot of Melrose (Scotland), Abbot-Superior of the Benedictines of Vienna, Abbot of the Benedictine Emmaus Monastery in Prague (1647), and Grand-Vicar to the Archbishop of Prague, Ernst Augustus z Harrach (1623–1667).
In 1648, when the Swedes attacked Prague, Caramuel armed and led a military division of ecclesiastics who helped defend the city. His bravery on this occasion merited for him a collar of gold from the emperor. "
In 1656 Caramuel visited Rome for the first time, where Pope Alexander VII named him Consultor of the Holy Office (Inquisition) and Consultor of the Sacred Congregation of Rites. Pope Alexander knew Caramuel well, since he had been papal legate in Cologne from 1639 to 1651. In July 1659, he was named Bishop of Campagna e Satrianum (1657–1673).
In July 1673, Caramuel received his final appointment, as Bishop of the diocese of Vigevano near Milan (1673–1682), where he designed the church facade.
Caramuel's mathematical work centred on combinatorics and he was one of the early writers on probability, republishing Huygens's work on dice with helpful explanations. Caramuel's Mathesis biceps presents some original contributions to the field of mathematics: he proposed a new method of approximation for trisecting an angle and proposed a form of logarithm that prefigure cologarithms, although he was not understood by his contemporaries. Caramuel was also the first mathematician who made a reasoned study on non-decimal counts, thus making a significant contribution to the development of the binary numeral system.
---
Archived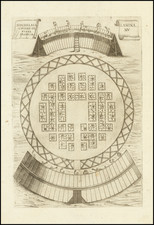 Place/Date:
Vigevano / 1678