Alan Stuart Paterson was born in 1902. He was a nephew of George Butler, New Zealand's official war artist in the First World War. By 1907 the family had moved to Wellington, where Alan was educated at Clyde Quay School and at Wellington College.
After working as a clerk for the Department of Lands and Survey from 1918 to 1923, Paterson spent a year at St Martin's School of Art, London
On returning to New Zealand in 1925 Paterson worked briefly as a cartoonist for the New Zealand Times before becoming the Dominion's first staff cartoonist. Apart from a three-year break during the Second World War (when he was made redundant as an economy measure) he worked for the Dominion until 1950.
Over the years Paterson was commissioned to illustrate a number of books, including Sketches from Maoriland (1939), Wonder tales of Maoriland (1948), New Zealand beckons (1952), Changing days and changing ways (1954), and several publications in the series 'Legends of Maoriland' (1962) published by A. H. & A. W. Reed.
In May 1950 Paterson became a cartoonist for the New Zealand Labour Party's daily newspaper the Southern Cross. The paper warned its readers not to expect him to be political: 'A little nonsense now and then, maybe, but nothing that would make the truest tory go red in the face'. Late in 1950 he moved to Palmerston North and in 1951 began working for the Country Library Service. In 1964 he became curator for the Gisborne Art Gallery and Museum.
Three separate series of Paterson's sketches were published posthumously: The bull pen (1969), which sold over 100,000 copies; Knight after knight (1970); and Professor Paterson's book of engaging birds (1971), a series of satirical drawings of birds, drawn for his friend the author June Opie, who was in the hospital.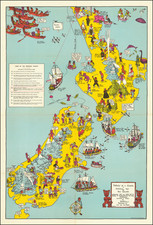 Place/Date:
Dunedin / Wellington / 1940