Beuschel from Marktsteft in Lower Franconia, who joined the military and came to America in 1777 and served under the command of Captain Friederich Wilhelm von Reitzenstein.
He was a part of the so-called Hessian soldiers who were leased to the British. Margrave Carl Alexander von Ansbach-Bayreuth (1736-1806) saw the "leasing" of his troops to the British Army as an opportunity to free his small state from its high tax debts.
Beuschel spent the years from 1777 to 1783 fighting for the British during the American Revolution, arriving in Staten Island in 1777. From there he served in various battles of the northern campaign, including New York, Philadelphia, Glocester, Richmond and Yorktown in 1781.
From America, he returned to Europe and was part of the Ansbach-Bayreuth troops 1787-93 in the Netherlands.
After the war, he served as a Kreißbereiter" (mounted country policeman)
---
Archived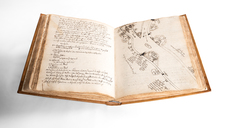 Place/Date:
v.p. / 1777 -1797
Size:
6.5 x 8 inches (journal)