William Henry Bradley was an American Art Nouveau illustrator and artist. Nicknamed the "Dean of American Designers" by The Saturday Evening Post, he was the highest paid American artist of the early 20th century.
Bradley set up the Wayside Press, where he served as an illustrator, editor, typographer, designer, and press manager for a magazine he named Bradley, His Book. The periodical usually contained compilations of poetry, stories, and sketches, and his work received a warm reception. He later worked as a consultant for the American Type Founders and as an editor for Collier's Weekly. He worked briefly with children's books, then for William Randolph Hearst's film division as a supervising art director and assistant director on the Wharton Brothers' serial films Beatrice Fairfax (1916) and Patria (1917).
Bradley founded his own production company, Dramafilms, and went on to write, produce and direct his own films, including Bitter Fruit (1920), Moongold (1920) and The Tame Cat (1921). In 1954, The Typophiles published a memoir of Bradley's life called Will Bradley: His Chap Book, a limited edition of 650 copies. The same year, he won the AIGA medal, the highest honor for graphic designers.
He was a prolific artist and designer up until his death at age 94.
---
Archived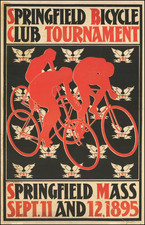 Place/Date:
Springfield, MA ? / 1895