James D. Stout was a silversmith, engraver and seal-sinker in New York City, active from about 1810 to 1835.
Born in Middletown, New Jersey on October 5, 1786. Working primarily as a silversmith and engraver.
His earliest map printing work would seem to be the Prior & Dunning edition of David William Smyth's Map of Upper Canada . . . , published in 1813.
He is also credited with a the engraver of Jacob Willets map of the State of New York in 1815.
William Dunlap's History of the Rise and Progress of the Arts of Design in the State of New York in the ..., Volume 3, lists Stout as a map engraver, in about 1813.
---
Archived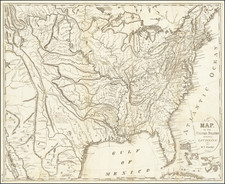 Place/Date:
New York / 1817 circa