Della Taylor Hoss was born in Illinois in 1900. She spent her childhood in Los Angeles. Della's brother, Frank Taylor, worked with Horace Albright, conservationist and Director of the National Park Service, and co-authored or ghost-wrote many of Albright's works. This connection gave her an early affinity for the National Park System.
Della graduated from Stanford University in 1923 and then continued her studies at the California School of Fine Arts in San Francisco and then the National School for Fine and Applied Arts in Washington, D.C.
Della Taylor married Herman Hoss, who was the Federal Magistrate and Treasurer of Yosemite Park and Curry Company. Della and Herman lived in Yosemite Valley from 1928 until 1942.
Della was responsible for a number of the most iconic images of Yosemite, including early pictorial maps and posters. She continued to pursue her passion for illustration and the Sierras throughout her later life, traveling the White Mountains to document the Bristlecone Pines in a series of pencil drawings that drew wide praise.
Della Taylor Hoss passed away in 1997 at the age of 97.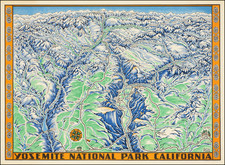 ---
Archived