David Bice James also used the names Vindes and Brigham James.
It is believed that James came to California after spending some time with the Mormons in the Salt Lake City area, arriving in California 1849 or 1850. He first arrived in the Los Angeles area, where he joined Colonel Barbour, trading with the Indians in the San Joaquin Valley, where he first tried his luck as a miner in at Coarse Gold Gulch and Texas Flat and trading at Fort Millerton.
By 1853, James had started a Brewery and Saloon in Visalia. A few years later, he unsuccessfully attempted to create a town in the Venice Hills area, thereafter returning to mining in Iowa City (Kern County). By 1869, he had settled in White River, in Tulare County, where he mined and wrote letters to the Visalia Delta under the pen name Vindex, advocating for the extension of the Southern Pacific Railroad through Tulare County to Walker Pass and the Tehachapi Mountains and describing life in the region.
After a time in San Francisco, he returned to Visalia and opened a hotel and obtained a contract to supply water to the Courthouse and several other buildings, at which point he invented a Steam Pump. In 1876, he took over the gas plant that furnished gas to parts of Visalia, making gas that he refined out of coal oil from a well west of Tulare Lake. He continued work as an inventor, attempting to create a steam irrigation pum and steam wagon to haul grain to the railroad.
His next major invention effort was a single track railroad, which he promoted in San Francisco in 1880 and for which he obtained a patent, but was unsuccessful in obtaining sufficient investors for the project. He remained in San Francisco, but also obtained work as a mining superintendent in White River.
It also appears that he traveled to Alaska during the 1896-1897 Gold Rush, according to the Visalia Delta, which reported his age as 73 at the time. In the same year, he also described his plans for using rocket power.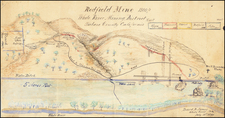 Place/Date:
White River, California / 1899
Size:
18.5 x 9.5 inches full sheet