Mareschal would ultimately rise to the title of Royal Enginner. He began his career in Belfort as head of the provinces of Alsace and Burgundy.
In 1715, he created a manuscript atlas of the places of Alsace which brought together the different plans found throughout the province. This atlas is kept at the Château de Vincennes, at the Génie library in Paris .
In 1721 , Jacques Philippe was appointed Knight of Saint-Louis and made chief engineer in Huningue . He was then appointed director of the fortifications of the duchy and county of Burgundy, for a few months, from 1738 .
In 1737, he erected the Saint Louis tower in Port-Saint-Louis-du-Rhône.
He worked at the Jardins de la Fontaine in Nîmes ( Gard ) from 1740 to 1749. He created plans during the ancient discoveries and also plans for a sea canal project in Nîmes, but the latter was not carried out.
In 1748, he traveled to Italy at the request of Benedict XIV , to provide advice and plans for the port of Anzio.
Mareschal drew nother atlas for the places of Languedoc in 1775 . This manuscript contains plans for military constructions such as the redoubt of Grau-du-Roi , the towers of Aigues-Mortes, the forts Saint-Pierre and Richelieu de Sète, nd maps of cities and their surroundings such as Narbonne and Agde.
Mareschal built the first concert hall in Montpelier in the 18th century.
---
Archived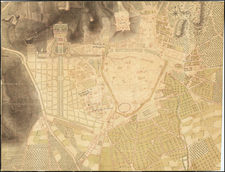 Place/Date:
n.p. / 1749 circa
Size:
34 x 26.5 inches full sheet