C.J. Dyer took the overland route from Jackson, Michigan, to San Francisco in 1877. Within three years he was in Napa, working as a viewmaker. By 1884, he was in Arizona, where he remained at least until 1899, and possibly later.
According to Reps, Views and Viewmakers of Urban America, Dyer was responsible for the following bird's eye views:
1880 ca. C.J. Dyer. Birdseye View of Napa City California. Looking West. Published by David L. Haas, Bookseller, Stationer & Lithographer, Napa, Cala. (Reps 161)
Five years before these views appeared, Dyer produced a lithograph of Napa, California, and it is possible that he gained his experience in that state working for a more mature artist. He also drew another print showing Novato Rancho in California. No other work of his of this type is known except for a later view of Phoenix showing the city in 1890. Dyer's name is to be found on a map of irrigated land in Arizona, but no biographical information about him has yet come to light.
The Napa Valley Register mentions that Dyer is producing a view of the city in the August 3, 1880 issue.
1885. C.J. Dyer. Bird's Eye View of Phoenix, Maricopa Co., Arizona. View Looking North-East. Lithographed by W. Byrnes. Printed by Schmidt Label & Litho Co. Print. S.F. (Reps 20)
1885 ca. C.J. Dyer. Bird's-Eye View of Prescott, A.T. Looking North East. (Reps 22)
Dyer gave his Prescott view a more conventional rectangular format, using the corners for vignettes and a legend. He placed three other vignettes above the title as insets and rather awkwardly hung two sets of vignettes below the heavy ruled border on either side of the title. The printer -- probably from the Schmidt firm -- used inks of slightly more subdued colors than those chosen for the Phoenix lithograph. (Reps, page 173)
1890. C.J. Dyer. Phoenix Arizona in the Salt River Valley. View looking northeast. Schmidt, L. & L. S.F., Cal.
We can add another bird's eye view not recorded in Reps' work:
1888. C. J. Dyer. Tempe, Maricopa Co. Arizona. Looking North East.
In 1890, Dyer was advertising his new view of Phoenix in the Arizona Republic:
A Beautiful Picture. | The New | Bird's-Eye Picture of Phoenix | Is 40 inches long and 30 inches wide, is | Lithographed in Several Colors | And shows every house in Phoenix, from the Capital Addition to the West | to the Territorial Asylum on the East. | All the Streets Are Numbered | All the additions are shown; also the | Salt River Valley, Grand, Maricopa, | ....and Arizona Canals... | Can Be Sent to Any Part of the United States | Or Europe by Mail. Price, $2.00 | ....Can be procured of.... | C.J. DYER Phoenix
In the same issue of the Arizona Republic, Dyer was advertising his services as a mapmaker:
MAPS | If you want a map made of your mine go to | Dyer for it. If you want a map of any of the | canals go to Dyer for it. If you want a sketch | of your ranch or other property go to Dyer for | it. If you wish to illustrate a patent right go to | Dyer for it. All work done at reasonable rates. | Office at residence, near corner of Van Buren | and Center streets, Phoenix, Ariz. C.J. Dyer.
In 1899 C.J. Dyer was Councilman for the First Ward of Phoenix.
Some sources have his dates as 1846-1903.
---
Archived
Place/Date:
Phoenix, Arizona / 1885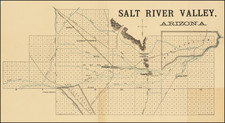 Place/Date:
Phoenix / 1887