Almost nothing is known of A. Duplessis, who apparently designed, published and sold instruments at his premises by the Pont Notre Dame (He may also have been an engraver.) We can also attribute to him with 100 percent confidence the Calendrier Perpetuel, an instrument of similar style and construction published in 1764 or -65. In 1767 he published a small pamphlet, also titled Calendrier Perpetuel, the last page of which describes him as a seller of geographic materials, including:
"all kinds of geographic maps, both general and particular, methodical & elementary atlases of geography & history; the analytic table of France, a complete collection of maps by the best authors, plans of Paris of all sizes, as well as Versailles, Nancy, Wesel, fortified cities, maritime charts and boundaries of the Kingdom, &c. He also sells the map of France, raised by order of the King, under the direction of Mssr. Cassini…"
The Bibliotheque Nationale de France holds a Plan de Nancy published in 1766 by an A. Duplessis. The BNF catalog also has a biographical entry for an A. Duplessis, "auteur, éditeur, distributeur," resident in 1792 at the rue de la Calandre, quartier du Paris. This Duplessis, possibly one and the same as ours, drew, engraved and published a number of allegorical and patriotic images during the French Revolutionary era.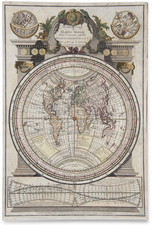 Place/Date:
Paris / 1769 -1770
Size:
13.5 x 20.25 inches
---
Archived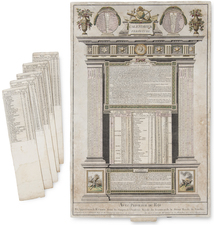 Place/Date:
Paris / 1764 -1765