The Dictionary of Canadian Biography notes:
DESHAYES, JEAN (he sometimes signed Deshaies), marine surveyor and royal hydrographer of New France . . .

. . . in 1668 Jean Deshayes was already a man of recognized ability. In that year Colbert wished to buy the secret of a new method of calculating longitude from a foreign scholar, and it was Deshayes who was ordered to test its validity. Two years later he departed for Acadia to test a similar theory at sea. . . . The engineer Saint-Columbe described him as "a man of strong good sense." Deshayes occupied himself with teaching and navigational problems in France until 1681 when, along with two other scientists, he was ordered to undertake an expedition to Gorée off Cape Verde and to the islands of Martinique and Guadaloupe in the West Indies. It was probably as a result of this venture that he was sent to New France to make a hydrographic survey of the St Lawrence River.

He arrived in Quebec in August 1685 and . . . accompanied Governor Brisay de Denonville on a journey to Fort Frontenac (Cataracoui, now Kingston, Ont.), landing at frequent intervals to observe and calculate latitudes and to draw a map. During the next year, he was fully occupied in carrying out a detailed hydrographic survey of the St Lawrence below Quebec. In November . . . he left the colony without completing the survey. Nevertheless, this work became the basis for a chart of the river that was published around 1700 on the recommendation of the Académie Royale des Sciences; a second edition appeared in 1715. These charts were the first engraved maps devoted solely to the St Lawrence River. . . .

It was probably because of the appearance of this chart rather than by any influence exerted on his behalf, that Deshayes was appointed royal hydrographer of New France in 1702. He arrived back in the colony that same year, and for the next four years taught navigation and pilotage to the youth of the colony. In 1703, he was appointed deputy engineer. During the following year, he drew a chart of the north shore of the St Lawrence to show Augustin Le Gardeur de Courtemanche's voyage of exploration to Labrador.

. . . Besides being the author of a very significant chart, Deshayes published a revised edition of L'Usage du compas de proportion de D. Henrion (Paris 1681; second edition, 1685). He also wrote La théorie et pratique du nivellement, which appeared in 1685, with a second edition in 1695.
---
Archived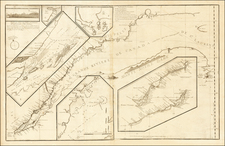 Place/Date:
Paris / 1702 circa (1715 circa)