Thomas Phillips was a respected surveyor and military engineer who worked for the English Crown and the Royal Navy in the seventeenth century. Phillips served for some time in the Royal Navy and he is listed as a master gunner in HMS Portsmouth in 1661. In 1672 he was examined by the Master Gunner of England and made gunner in the Tower of London. In 1673, he was again serving in the Royal Navy during the First Anglo-Dutch War.
It was during this war that Philllips met George Legge, Lord Dartmouth, who would become his patron. Phillips continued to develop his knowledge of explosives and ordnance, becoming an expert in bombardment and fortification.
Phillips was selected to perform a survey of the Channel Islands in 1679-80. He then accompanied Dartmouth on the 1683 expedition to evacuate Tangier, where he produced plans and images and likely had a hand in the laying of mines to destroy the fortifications there.
Named third engineer of the Ordnance, Phillips traveled to France in 1784. There, he met the famed Vauban, another military engineer with expertise in fortifications. With his continental experience, Phillips was ordered to review the fortifications of Portmsouth. Then, he was sent to Ireland, to survey the defenses there.
Back in England, Phillips was promoted to the post of second engineer of the Ordnance in late 1685. In the aftermath of the Glorious Revolution of 1688, both Dartmouth and Phillips lost their positions. However, Phillips was able to keep reviewing and building fortifications, eventually earning his position as second engineer again, in 1691. By 1693, he was chief engineer of the Ordnance.
In November of that year, Phillips joined Commodore John Benbow's expedition to destroy St. Malo, a French privateer stronghold. Phillips designed and helped to command the bomb vessels that accompanied the fleet. He led a 300-ton galliot loaded with explosives to level the town, but the ship ran aground, still doing considerable damage to the town and sea wall. However, Phillips seems to have been injured in the attack. He died three days later, November 22, 1693, on Benbow's flagship, the HMS Norwich.
---
Archived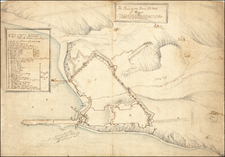 Place/Date:
n.p. (Tangier?) / 1684 circa
Size:
28.5 x 20 inches full sheet