Konrad Peutinger (1465-1547) was a German humanist, jurist, diplomat, politician, and economist. He was born in Augsburg, Germany, which was at the time part of the Holy Roman Empire, and he spent much of his life there. However, as a young man he also received education in Bologna and Padua, and his experience in Italy fostered a love of and enthusiasm for antiquities.
Peutinger returned home and served in the municipal government of Augsburg. He became a close counselor and friend to Emperor Maximilian I as well as his successor, Charles V. Peutinger was often called upon by the Emperor to carry out literary and artistic plans or for diplomatic missions, as his connections to influential men in Germany, Italy, and France made him particularly valuable in that regard. The city of Augsburg also benefitted from the relationship between the emperor and their municipal government.
Later in life, Peutinger took a step back from government work and devoted himself to study. Over the years he had gathered a sizeable collection of ancient Roman inscriptions, which were published in 1505, notable as he was one of the first to publish Roman inscriptions. He also published some scholarly writings about German history in 1515, which were valuable sources for future study.
Peutinger was one of the most famous antiquarians of his time, collecting manuscripts, books, coins, and other archaeological items from ancient times. Along with his wife, Margaret Welser, he formed an enormous private library, one of the largest north of the Alps. His most famous possession, though, is the one that carried on his name: the Peutinger Table.
Peutinger's friend Konrad Celtes acquired a manuscript copy of an ancient Roman road map from a library in the late 1400s. The map was passed to Peutinger after Celtes died in 1508. This became known as the Peutinger Table, though Peutinger was never able to publish it himself before his death. After Peutinger died in 1547, the map was left to his wife's relative Marcus Welser, who allowed it to be copied and published. Peutinger's wealth and antiques collection was passed down through the family until 1714, when it was divided between the Augsburg Library and Vienna, where some of his collection can still be found today.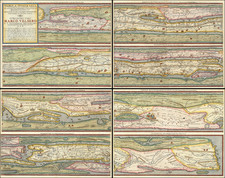 Place/Date:
Antwerp / 1624
Size:
20.5 x 15.5 inches (each sheet)
---
Archived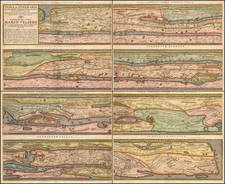 Place/Date:
Antwerp / 1598 (1624)
Size:
20.5 x 15.5 inches (each)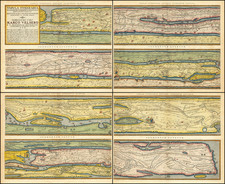 Place/Date:
Antwerp / 1598 (1624)
Size:
20.5 x 15.5 inches (each)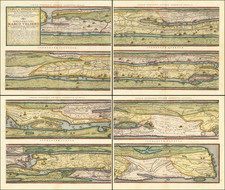 Place/Date:
Antwerp / 1624
Size:
20.5 x 15.5 inches (each sheet)