Edward Bawden was an English painter, illustrator and graphic artist, known for his prints, book covers, posters, and garden metalwork furniture. Bawden taught at the Royal College of Art, where he had been a student, worked as a commercial artist and served as a war artist in World War Two. He was a fine watercolor painter but worked in many different media. He illustrated several books and painted murals in both the 1930s and 1960s.
Upon leaving school in 1919, he attended Cambridge School of Art full-time from 1919 to 1921. This was followed in 1922 by a scholarship to the Royal College of Art School of Design in London, where he took a diploma in illustration until 1925. Here he met his fellow student and future collaborator Eric Ravilious; the pair were described by their teacher Paul Nash as "an extraordinary outbreak of talent".
It was during this period that Bawden produced the tiles for the London Underground that were exhibited at the International Building Trades Exhibition at Olympia in April 1928.
By 1930, Bawden was working one day a week for the Curwen Press, as was Ravilious and their former tutor, Nash, producing illustrations for leading accounts such as London Transport, Westminster Bank, Twinings, Poole Potteries, Shell-Mex, the Folio Society, Chatto & Windus, and Penguin Books. In the early 1930s he was discovered by the Stuart Advertising Agency, owned by H. Stuart Menzies and Marcus Brumwell. Around this time Bawden produced some of his most humorous and innovative work for Fortnum & Mason and Imperial Airways. He also worked for The Listener.
During the Second World War Bawden served as an official war artist, first with the British army in France and then, following the army's evacuation from there, in the Middle East. Already in France before World War II was declared, he recorded defenses being prepared at Halluin, then witnessed the bombing of Armentières and the evacuation from Dunkirk. He was posted to North Africa as a War Office Artist on a full-time War Artists' Advisory Committee contract. Bawden painted landscapes and portraits in Libya, Sudan, Cairo, Eritrea and Ethiopia, reaching Addis Ababa in May 1941. At the start of 1942 he travelled with Anthony Gross to Palestine and Lebanon.
After making a series of studies of the Marsh Arabs in southern Iraq, Bawden was recalled to London. Bawden departed Cairo aboard the SS Stratheden but transferred to the RMS Laconia in Durban in August 1942. After the Laconia was torpedoed and sunk, in September 1942, he spent five days in an open lifeboat before being rescued by a French ship, the Gloire. He was held prisoner in a Vichy internment camp in Casablanca for two months before the camp was liberated by American troops.[9] From Casablanca he sailed to Norfolk, Virginia.[8] When he eventually returned to Britain, Bawden did portrait work at the Military Hospital in Colchester and in Scotland, with Polish forces training there. He returned to Iraq in September 1943, as a Ministry of Information artist to work in Baghdad and Kurdistan, before he joined the Middle East Anti-Locust Unit on its trek to Jeddah. From Jeddah, he returned to the Marsh Arabs in southern Iraq, before entering Iran to portray supply shipments to the Soviet Union.
Bawden returned to England in 1944 and for a short while, painted at Southampton docks before departing for Yugoslavia, by way of Rome. Unable to enter Yugoslavia he went to Ravenna, then Greece, Austria and Florence before travelling back to England in July 1945.
Bawden lived in Great Bardfield, Essex from the 1930s to 1970. While living at Bardfield he was an important member of the Great Bardfield Artists. This group of local artists were diverse in style but shared a love for figurative art, making the group distinct from the better known St Ives art community in Cornwall, who, after the war, were chiefly dominated by abstractionists.[12]
In 1949, Bawden provided illustrations for the book London is London – A Selection of Prose and Verse by D. M. Low. Bawden completed a series of eleven murals for the First Class lounge of the P&O liner Oronsay, which was launched in 1951. The theme was the English pub and Bawden depicted traditional pub names, such as the Rose & Crown, in purely visual form in his design. For the Festival of Britain in 1951 he created a mural, English Country Life, that was displayed in the entrance of The Lion and the Unicorn Pavilion.
During the 1950s, the Great Bardfield Artists organised a series of large 'open house' exhibitions which attracted national press attention. Positive reviews and the novelty of viewing art works in the artists' own homes (including Bawden's Brick House) led to thousands visiting the remote village during the summer exhibitions of 1954, 1955, and 1958. As well as these shows, the Great Bardfield Artists held several touring exhibitions of their work in 1957, 1958, and 1959.
Bawden's work can be seen in many major collections and is shown regularly at the Fry Art Gallery, Saffron Walden and The Higgins Art Gallery & Museum, Bedford. His notable surviving public works include a tile depicting a foot ferry on the River Lea, commissioned by London Underground and located on the Victoria line platform at Tottenham Hale station. Bawden also produced the cameo-like silhouette of Queen Victoria located at Victoria underground station.
n early map, produced in 1931 for Scarborough's Pavilion Hotel and presented to Scarborough Library when the hotel was sold, was recently restored and rehung in the library.
The original Morley College mural that Bawden created in the 1930s was destroyed during a wartime bombing raid; however the rebuilt and relocated college on the South Bank contains a fine surviving mural by him. In 1965 Bawden completed a mural for Queen's University, Belfas
---
Archived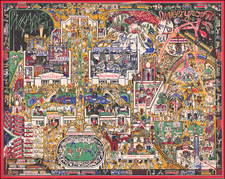 Place/Date:
London / 1924