Thielcke was born in St. James's Palace in London where his parents were both members of the Royal household.
Theilcke trained at the British Royal Academy Schools, and exhibited at the Royal Academy between 1805 and 1816, and at the British Institution in 1811, 1815, and 1816. At some point Thielcke was appointed "Portrait Painter to HRH the Duchess of York", a title that served him well in Canada and the United States. The date of the appointment is not known but it seems he retained this appointment until 1820, when she died.
Thielcke was in Quebec by November 1832 when he advertised as a portrait and miniature painter and he spent the rest of his professional career in Canada and America. He produced some very accomplished portraits, but this is probably his best known for his North American work.
---
Archived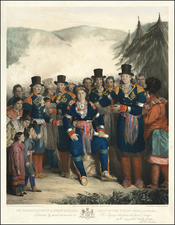 Place/Date:
London / 1839