Georg Achatz Freiherr von Enenkel came from the Protestant noble family Enenkel von Albrechtsberg an der Pielach in Lower Austria . He studied ancient languages ​​and philosophy in Strasbourg and law at the University of Tübingen . He translated Thucydides history of the Peloponnesian War from Greek into Latin. He also wrote some legal works.
He was married to Anna Freiin von Althann, the daughter of the imperial court chamber president Christoph Freiherr von Althann and Elisabeth Freiin von Teufel. The only daughter Esther Maria died early.
As a Protestant (Protestant) in 1608 he signed the Horner Bund .
His brother Job Hartmann von Enenkel was also a historian and genealogist.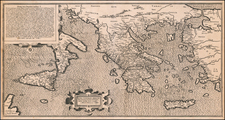 Place/Date:
Vienna? / 1596