Hieronymus Cock, or Hieronymus Wellens de Cock (1518 -1570) was a Southern Netherlandish painter and etcher as well as a publisher and distributor of prints. Cock became known as the most important print publisher of his time in northern Europe and his widow Volcxken Diericx played a key role in the transformation of printmaking from an activity of individual artists and craftsmen into an industry based on division of labor.
Cock's publishing house published more than 1,100 prints between 1548 and his death in 1570, a vast number by earlier standards.
Although far more important as a publisher, Cock was an artist of talent, best seen in his last series of 12 landscape etchings of 1558, which are somewhat in the fantastic style of the paintings of his brother Matthys Cock. Altogether he etched 62 plates.
Cock was born into an artistic family. His father Jan Wellens de Cock and his brother Matthys Cock were both painters and draftsmen. He was admitted to the painters' guild of Saint Luke in Antwerp in 1545. He resided in Rome from 1546 to 1547. When he returned to Antwerp in 1547, he married and together with his wife founded their own publishing house in 1548, Aux quatre vents or In de Vier Winden (the "House of the Four Winds"). They issued their first prints there in 1548. The majority of Cock's prints were made after paintings by artists from the Low Countries such as Frans Floris, Pieter Brueghel the Elder, Lambert Lombard, Maarten van Heemskerck and Hieronymus Bosch as well as architectural and ornament designs by Cornelis Floris and Hans Vredeman de Vries.
In 1559 and 1561 he published two series of landscape prints by an anonymous Flemish draughtsman now referred to as the Master of the Small Landscapes. The series of landscapes were drawn from nature in the vicinity of Antwerp and had an important influence on the development of Flemish and Dutch realist landscape art.
The Cocks' enterprise Les Quatre Vents played an important role in the spread of the Italian High Renaissance throughout northern Europe as Cock published prints made by prominent engravers such as Giorgio Ghisi, Dirck Volckertsz Coornhert and Cornelis Cort after the work of leading Italian painters like Raphael, Primaticcio, Bronzino, Giulio Romano and Andrea del Sarto. The Italian historian of architecture Vincenzo Scamozzi copied many of the engravings published by Cock in 1551 for his volume on Rome entitled 'Discorsi sopra L'antichita di Roma' (Venice: Ziletti, 1583).
Cock collaborated with the Spanish cartographer Diego Gutiérrez on a 1562 Map of America.
Hieronymus Cock collaborated with Antwerp architect and designer Cornelis Floris de Vriendt in the publishing of Cornelis Floris' designs for monuments and ornaments: the ''Veelderley niewe inuentien van antycksche sepultueren'' ('The many new designs of antique sculptures') was published in 1557 and the ''Veelderley veranderinghe van grotissen'' ('Many varieties of grotesques') in 1556. The publication of these books contributed to the spread of the so-called Floris style throughout the Netherlands.
After Cock's death in 1570, the firm was continued by his widow (Volcxken Diercx) until her death in 1600. The inventory of her estate survives with a list of her plates still owned by the firm. Many of the plates were later taken over by Philips Galle, a family friend and her executor. Other plates were sold to other printers, including Paul van der Houve (Paul de la Houve) in about 1600, and by 1601, Houve was known to have published copies of Cock's maps of Span and Sicily, as well as a portion of the map of America.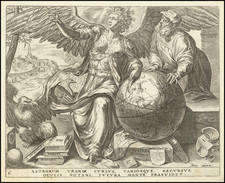 Place/Date:
Antwerp / 1600 circa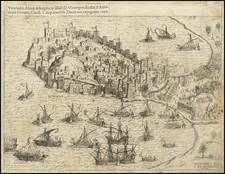 Place/Date:
Antwerp / 1550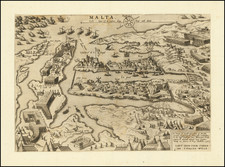 Place/Date:
Antwerp / 1565
---
Archived

Place/Date:
Paris / 1557 / 1601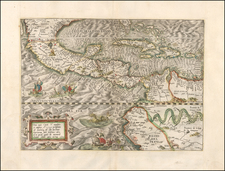 Place/Date:
Antwerp / 1562 (1630)