Orlando Schubert was an early Cleveland artist especially noted for his marine paintings. Schubert was the son of early settlers Mary and Balthasar Schubert, a nephew of German composer Franz Schubert and founder of the Cleveland Grays band. Orlando Schubert acquired a proficiency on many musical instruments before leaving home to work on a Great Lakes boat.
By 1873, he had returned with enough knowledge of art to render a well-regarded watercolor of Cleveland's lakefront. He joined the group of local artists in the old City Hall known as the "Old Bohemians" and was a charter member of the Brush and Pallette Club. Schubert then left Cleveland to study and paint in Munich for 4 years.
Upon his return he ran a print shop on Detroit Avenue. to support his painting, which he pursued at his lakefront home in Bay Village. In 1913, he painted his magnum opus, The Battle of Lake Erie, on the centenary of that event. Some of his paintings were destroyed 2 years later by a fire that consumed the next-door home of his brother and threatened his own.
The lifelong bachelor died in St. Petersburg, Florida, where he bequeathed many of his paintings to form the nucleus of an art museum.
---
Archived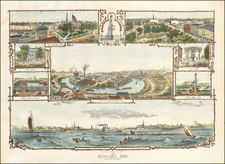 Place/Date:
Cleveland / 1873