Thätjenhorst was the son of a language teacher. He studied mathematics and physics at the University of Göttingen to become an engineer. He first worked in the Grand Duchy of Mecklenburg . He returned to Bremen and worked for the cadastral Commission established by Adam Ernst von Weltzin 1824 and at the 1835 established Cataster Bureau in Bremen.
He led first together with the surveyor and Gaußschüler Eberhard Klüver (1800-1845) from 1826 to 1850 extensive cadastral survey work for the land tax collectionbut also for city planning. Together with the Lieutenant A. Duntze he published in 1851 a map of the territory of the free Hanseatic city of Bremen (lithograph by G. Hunckel from 1860) in the scale 1: 29,000. The map is in the original in the Bremen State Archives .
Thätjenhorst was in 1856 co-founder of the Artists Association in Bremen , which promoted artistic and scientific topics in the Hanseatic city. From 1842 to 1851 he was a member of the Bremer Bürgerconvent or in the Bremen citizenship .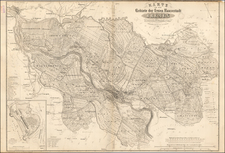 Place/Date:
Bremen / 1851