Pattillo Higgins (1863 – 1955) was a hugely controversial firebrand of Texas oil and the single most instrumental figure in the dawn of the Texas oil boom. With Anthony Francis Lucas, he discovered and led the exploitation of Spindletop, the oil field in Jefferson County that would propel Texas, and the United States, to the role of top oil producer in the world.
Higgins was born on December 5, 1863 in Sabine Pass, Texas. By the age of six his family relocated to Beaumont, where after completing fourth grade, Pattillo apprenticed as a gunsmith with his father.
When Higgins was 17, he was caught harassing an African American Baptist church by a sheriff's deputy. The deputy shot at Higgins, who returned fire, hitting the deputy, who would eventually die of his wounds. Pattillo suffered a gunshot wound to his left arm that required amputation below his elbow. Pattillo claimed self-defense and was found not guilty by a jury. After a stint as a "one-armed logger" on the Texas-Lousiana border, Pattillo became a Christian thanks to Baptist revival meeting he attended in 1885.
Higgins' entrepreneurial spirit led him to real estate and brick manufacturing (Higgins Manufacturing Company) and later on sparked his interest in oil and gas. He travelled to Pennsylvania to learn about geological features indicating underground repositories of oil and dedicated himself to study of US Geological Surveys and reports that led him to the realization that many of the signs pointed to Sour Hill Mound ("sour" due to sulphur odor) near Beaumont, that he often visited with his Sunday school students. At this period in time the universal agreement was that there are no significant oil reserves to be found along the Gulf coast, but Pattillo became convinced that this salt dome mound had oil below it and despite public attacks on his credibility, he partnered with George O'Brien, George Carroll, Emma John, and J.F. Lanier to form the Gladys City Oil, Gas, and Manufacturing Company in 1892. This venture proved unsuccessful due to the shifting sands and unstable clay under the hill. Higgins resigned from the company, while retaining lease to the site.
After placing numerous adds in industrial magazines, Higgins partnered with the only man that answered – Croatian-America Anthony Francis Lucas. Lucas leased land at Spindletop Hill from Higgins and after years of arduous drilling discovered oil at what would become known as the Lucas Gusher. The relationship between Higgins and Lucas was quickly strained, but all made money. Higgins would enter into numerous oil ventures afterward, however, most of the time he backed out, leaving the majority of the profits to his partners.
Higgins remained a bachelor until the age of 45. In 1905, he adopted a young woman named Annie Jahn, who at the time was fifteen. Three years later Higgins married her, and despite the scandal, they later had three children. Higgins died in San Antonio on June 5, 1955.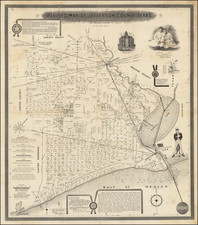 Place/Date:
Beaumont, Texas / 1898
---
Archived