Henry Harding (1837-1910) was a railroad engineer from Hartland, Vermont.
Harding worked for multiple eastern railroads during the 1850s, until he was recruited to serve as an assistant engineer for the Union Pacific under the direction of Grenville Mellon Dodge, an old friend and Chief Engineer of the railroad. Harding worked on the Union Pacific from 1865 to1870, Harding's particular focus was the design and construction of structures such as bridges, station houses, round houses, and terminals.
After the completion of the Union Pacific / Transcontinental Railraod, Harding returned East, working briefly for the Adirondac, Housatonic, and Naguatuck Railroads, befor taking a job with the United States Engineering Corps from 1873-90, and finally retiring to Hartland, Virginia in 1890.
For a more complete account of Harding's career, see Ellis, W.A., Norwich University, 1819-1911, Her History, Her Graduates, Her Role of Honor. Published by Major-General Grenville M. Dodge, 1911.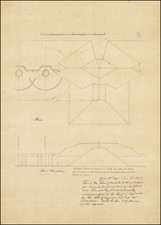 Place/Date:
n.p. / 1873 circa
---
Archived