Carl Friedrich von Wiebeking (1762-1842) was a German architect, water engineer and surveyor. For many decades, he was one of the leading figures in these fields throughout the German states and the Austrian Empire.
He was born in 1762 into a noble family in Wollin, Pomerania, in the Kingdom of Prussia (today Wolin, Poland). A precocious talent, at only the age of 17, he was selected by the Prussian military leader and cartographer Lieutenant-General W.C.G. von Smettau to be his lead assistant during his project to survey the Duchy of Mecklenburg-Strelitz (1779). Under Smettau's patronage, Wiebeking later went on to conduct trigonometric surveys of large parts of west Prussia and Pomerania, as well as Saxony-Gotha, Saxony-Weimar and Mecklenburg-Schwerin, projects completed by 1786. Notably these were the most advanced surveys of these regions conducted at the time.
In 1788, Wiebeking moved to Düsseldorf to assume the position of Chief Water Engineer for the Duchy of Berg, in the northern Rhineland. The region had suffered greatly due to chronic and severe flooding. Wiebeking worked closely with the engineer Johann Gottfired Tulla to successfully implement systems to contain the Rhine and its tributaries in order to protect the duchy's town and farms that lay along the rivers floodplains. In the process, Wiebeking completed an immense map of the Duchy of Berg, which remained by far the most accurate and detailed map of the region made for many years.
From 1802 to 1805, Wieberking oversaw various engineering projects in the Austrian Empire, in locations ranging from Vienna to Trieste to what is now Croatia. In 1805, he moved to Munich to became Director General of Public Works of the Kingdom of Bavaria, a post he held until 1817. Several roads, bridges, and canals constructed under his supervision dot the Bavarian countryside to this day, and enduring testament to the quality of his work. In his retirement, Wiebeking served as an advisor to the Bavarian Minister, the Graf von Montgelas.
allow unhindered passage for the river boats and in order to be less vulnerable to drift ice and wood. The Bamberg Regnitz Bridge of 1809 was the largest wooden arch bridge of its time with a span of 72 meters.
Begining in 1807 Wiebking was a member of the Bavarian Academy of Sciences. Wiebeking maintained contacts with the Russian corps of traffic route engineers for more than thirty years.
---
Archived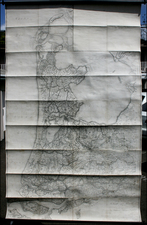 Place/Date:
Darmstadt / 1796