Charles T. Healey was educated at Perkinsville Academy, and began his career as a surveyor at very early age.
Healey spent time in New York before going to California in 1854, when he first went to San Jose. He was employed a a city clerk in San Jose from 1856 to 1858 and city engineer from 1862 to1866. He also served as county surveyor of Santa Clara county from 1856 to 1858.
Healey also was mining engineer of two quicksilver mines, the New Almaden and the Guadalupe, near San Jose. He was the first licensed surveyor in California. It is said every Spanish grant of land south of San Jose, California was surveyed by him.
In the 1870s Capt. C. T. Healey moved to Los Angeles and quickly became one of the prominent surveyors of the city. He was surveyor of Long Beach, and served as city engineer at Long Beach and San Pedro for many years.
---
Archived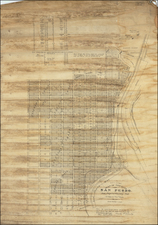 Place/Date:
Los Angeles / 1897 (1899)

Place/Date:
Los Angeles / 1904