Manuel Villavicencio was born in Lima in 1840. He was the son of Manuel and Juana Villavisencio Freyre.
After completing his studies at the Colegio Peruano-Frances, Villvicencio entered the Naval Military Academy as midshipman on 1 August 1855, at the age of 13. After completing his studies, he graduated with the Class of Midshipman on July 29, 1857, and was assigned to the warship "Izcuchaca."
On March 30, 1858, Villavicencio was assigned to the frigate "Apurimac", with which he participated in the expedition to Ecuador between 1859 and 1860, where he participated in the blockade of Guayaquil, under the command of Admiral Ignatius Mariátegui. It was during this time period that he prepared his Carta Corografica de la Republica del Ecuador, published by Ferdinand Mayer & Co. in New York.

It would also appear that his grandfather (?), Manuel Villavicencio prepared a map of Santiago District of Mexico City in 1782.
---
Archived
Place/Date:
Mexico, D.F. / 1782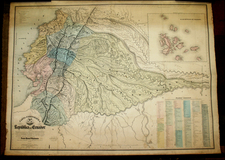 Place/Date:
New York / 1858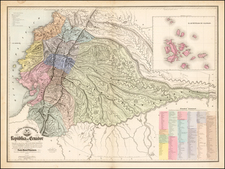 Place/Date:
New York / 1858