Benjamin Donn (aka Benjamin Donne), was a British cartographer, surveyor and mathematician
Donn was born into a family of respected mathematicians, including his father and older brother. Gentleman's Magazine (No. 74, p499) called his father George "one of the best teachers of arithmetic, navigation and dialling, in his time."
In 1768, Donn was elected librarian of the Bristol Library, where he unsuccessfully proposed to convert the library into a mathematical academy. Late, he founded his own private mathematical academy in Bristol.
Donn's is best known for his 1765 large wall map of Devonshire, based a survey which he undertook at his own expense, and which won the award of £100 from the Royal Society for the Arts. He produced a number of other local and regional maps, as well as several "scientific" charts, including The Analemma Improved by B Donn, in 1770, and his virtually unrecorded Ge-Organon.
He also published mathematical texts likely related to his mathematical school in Bristol.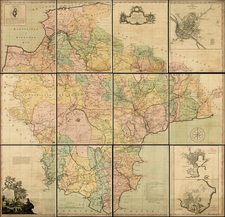 Place/Date:
London / 1765
Size:
76 x 73 inches (if joined)
---
Archived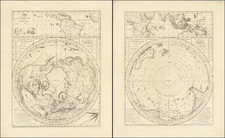 Place/Date:
Bristol / 1788
Size:
15 x 19.5 inches each