The following is excerpted from an advanced copy of an article written by William Wooldridge for The Portolan, entitled THE BUCHOLTZ – LUDWIG MAP OF VIRGINIA AND ITS SUCCESSORS, 1858-1868
Charles L. Ludwig was . . . . born about 1827 in Baden. . . As a young man he may have emigrated to the United States in 1850 or 1851. In 1856 he occupied the relatively lowly position of "clerk at Timmerman's Variety Store, 81 Broad," Richmond. In that year his future colleague in the lithography business, Lewis Hoyer, was proprietor of a jewelry shop on Main Street in Richmond.
In 1860 Ludwig was living in the household of his older business partner Lewis Hoyer. By then, both were listed as lithograhers. One would guess that either or both had learned the process in Germany but had not had the resources or connections to establish themselves in that business immediately upon their arrival in Richmond. Perhaps they were related. The household included, in addition to Hoyer and Hoyer's wife and daughter, and Ludwig, eight young men aged from 18 to 27 listed as clerks. Probably the "clerks" were printers or apprentice printers in the establishment.
Hoyer & Ludwig did all kinds of printing before and during the Civil War: ballots, maps, Confederate stamps and bonds. They were, in the judgment of the Richmond Whig, "our most proficient lithographers." From the internet, one can infer that the firm is better known to stamp collectors than to anyone else, and the considerable literature on Confederate philately might provide additional information on the principals.
Neither Ludwig von Bucholtz nor Lewis Hoyer have been noticed in business in Richmond after the end of the War. Charles Ludwig seems to have succeeded to the business of Hoyer & Ludwig. As already shown, he also controlled the lithographic stone, or some successor stone, for the 1858 Bucholtz-Ludwig map of Virginia, which he had engraved in the first place. By 1870, still listed as a lithographer, he valued his real estate at $40,000, an enormous sum in battle-scarred and burnt-over post-War Richmond. He even had an appointment as Swedish consol at Richmond for Virginia and North Carolina. . . .
Charles L. Ludwig of Richmond died at Hot Springs, Bath County, Virginia, July 23, 1875.

---
Archived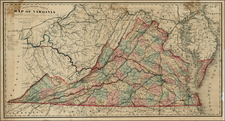 Place/Date:
Richmond, Virginia / 1868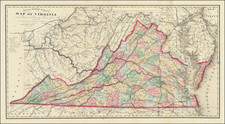 Place/Date:
Richmond, Virginia / 1868