The following is excerpted from the Library of Congrss Website:
Albert Ruger was the first to achieve success as a panoramic artist. The collections of the Library's Geography and Map Division contain 213 city maps drawn or published by Ruger or by Ruger & Stoner. The majority came from Ruger's personal collection, which the Library purchased in 1941 from John Ramsey of Canton, Ohio. Before this accession, there were only four Ruger city plans in the Geography and Map Division. Born in Prussia in 1829, Ruger emigrated to the United States and worked initially as a mason. While serving with the Ohio Volunteers during the Civil War, he drew views of Union campsites, among them Camp Chase in Ohio and Stephenson's Depot in Virginia. He continued to draw after the war, and his prints include a famous lithograph of Lincoln's funeral car passing the statehouse in Columbus, Ohio.

By 1866, Ruger had settled in Battle Creek, Michigan, where he began his prolific panoramic mapping career by sketching Michigan cities. Full descriptions of many Ruger views of Michigan cities are contained in John Cumming's A Preliminary Checklist of 19th Century Lithographs of Michigan Cities and Towns. Urban communities in some twenty-two states and Canada, ranging from New Hampshire to Minnesota and south to Georgia and Alabama, were sketched by Ruger. He continued his activity into the 1890s, moving his business to Chicago, Madison, and St. Louis as he sought new markets. In the late 1860s, Ruger formed a partnership with J. J. Stoner of Madison, Wisconsin, and together they published numerous city panoramas. Ruger was particularly productive during the 1860s; in 1869 alone, he produced more than sixty panoramic maps. In addition to city plans, he drew views of university campuses, among them Notre Dame, Shurtleff College, and the University of Michigan. Albert Ruger died in Akron, Ohio, on November 12, 1899.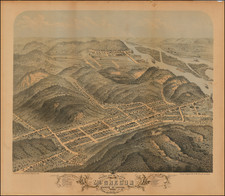 Place/Date:
Madison, WI / 1869
Size:
22 x 20.5 inches (Including title)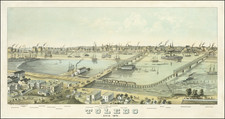 Place/Date:
Madison, WI / 1876
---
Archived