Fox & Ryan was an early Civil Engineering and Surveying firm in San Diego, California.
Robert J. Fox, C.E., was born in 1834 in Boston. He spent his early career as a civil engineer working on various railroad projects in the West between 1853 and 1869. In 1860, he was an early settler in the area of Denver and Leadville, Colorado. In 1869, he moved on to Californa and settled in San Diego, where he began speculating in real estate.
Once in San Diego, he participated in the survey of the organization of the San Diego and Fort Yuma Turnpike Road. In 1875, he established an apiary in Fallbrook and the following year founded the Bee Keeper's Association, establishing agencies in the Eastern US to sell honey produced in Fallbrook. He also was one of the founding members of the San Diego Society of Natural History and one of the stockholders in the Masonic Building Association in San Diego.
As a surveyor in San Diego, Fox led the surveys of San Diego and Los Angeles Railroad, and the Texas and Pacific Railroad's line through Tenecula Canyon. Fox and H.I. Willey also prepared the first ever official survey map of San Diego County.
---
Archived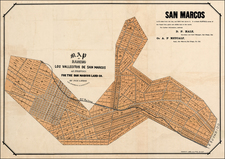 Place/Date:
San Francisco / 1887