Clarke and Courts is one of Texas's oldest printers and was in continuous business for over 100 years.
Clarke and Courts developed from M. Strickland and Company, Printers, Lithographers and Blank Book Manufacturers, organized at Galveston by Miles Strickland in 1857. Strickland moved his printing press to Houston during the Civil War, but subsequently returned to Galveston. After the war Samuel Burke, an expert printer, became a partner in the business, and a bindery was added to the plant.
After Robert Clarke purchased Burke's interest in the firm in 1870, the business came to be known as Strickland and Clarke. Known for its quality work, the company received a first prize at the Philadelphia Centennial Exposition for its blank-book business in 1876. In 1877, George M. Courts, who had previously handled stationery for the Thompson Drug Company, purchased Strickland's interest, and the two printers brought the first lithograph press in the state to Galveston, along with a crew to operate it. Clarke and Courts dates its origins to the partnership formed by the two men in 1879, in which Clarke managed the printing aspects of the business while Courts supervised the rest.
The firm operated until 1989, when it finally ceased operations.
See, Andrew Morrison, The Industries of Galveston (Galveston?: Metropolitan, 1887) and Diane J. Klein, http://www.tshaonline.org/handbook/online/articles/CC/ehcgy.html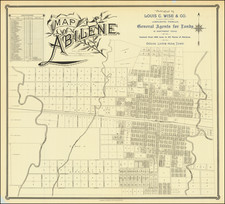 Place/Date:
Galveston, Texas / 1885
---
Archived