Godefroy Engelmann was an important early lithographer and early chromolithographer.
Engelmann trained in Switzerland and France at La Rochelle and Bordeaux, and studied painting and sketching in Jean-Baptiste Regnault's atelier in Paris. In the summer of 1814 he travelled to Munich to study lithography, a German invention. The following spring, he founded La Société Lithotypique de Muhlhausen. In June 1816 he opened a workshop in Paris.
Engelmann is largely credited with bringing lithography to France, and later, commercializing chromolithography. In 1837 he was granted an English patent for a process of chromolithography that provided consistently high-quality results.
Engelmann's Paris printing company, "Engelmann et Graf" was passed on to his son, Godefroy Engelmann II (born 1819), who carried on his father's work with the same high artistic quality until his own death in 1897.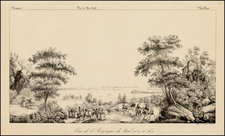 Place/Date:
n.p. / 1820 circa
Size:
29.25 x 10.25 inches
---
Archived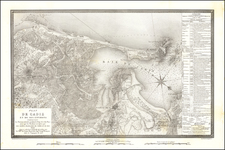 Place/Date:
Paris / 1826 circa