Thomas Brothers and Their Legacy in Mapping
The Thomas Brothers, pioneering cartographers of the 20th century, carved a unique niche in the world of mapmaking with their meticulous street atlases that have since become indispensable resources for countless Americans. The trio's journey began in the bustling hub of Oakland, California, in 1915, where George Coupland Thomas and his two brothers established Thomas Bros. Maps.
Initially, their publications included detailed block maps, birds-eye views of communities, and what one might consider generalized tourist maps. Their emphasis on accuracy, granularity, and user-friendliness quickly set them apart in the growing map industry. By the late 1940s, the brothers expanded their offerings, introducing street guides initially available as pocket-sized booklets. These guides encapsulated regions across several counties in California and even extended to Washington, offering detailed street views and points of interest.
A significant historical footnote is the company's involvement in producing redlining maps for several major Californian cities like Los Angeles, San Francisco, and Sacramento for the US government-sponsored Home Owners' Loan Corporation in the 1930s. These maps, controversial in today's context, played a role in shaping urban development and housing policies of the time.
In 1940, seeking larger opportunities and driven by the company's burgeoning success, the Thomas Brothers relocated their headquarters to Los Angeles. The move coincided with the addition of pocket-sized guidebooks dedicated to California and San Francisco, complete with fold-out maps, further solidifying their dominance in the local market.
Following the death of George Coupland Thomas in 1955, the company witnessed a transition in leadership. Warren B. Wilson, the family lawyer, acquired the business. Under his guidance, Thomas Bros. Maps continued to flourish, adapting to the changing needs of the market and expanding its geographic footprint.
By the onset of the California home development boom in the 1970s, the company's reputation was unparalleled. The transition to Irvine, California, in 1980 under Wilson's directive marked a new era, with the company setting its sights on digital innovations and new markets.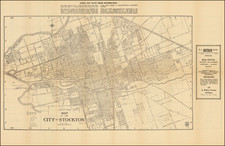 Place/Date:
Los Angeles / 1924
Size:
30 x 20 inches whole sheet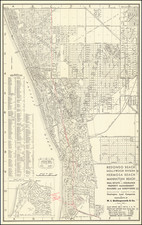 Place/Date:
Los Angeles / 1940 circa
Size:
13.75 x 21.5 inches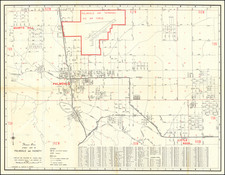 Place/Date:
Los Angeles / 1950 circa
---
Archived