Nicholas (sometimes Nicolaes, Nicolaas, or Nicolas) van Geelkercken (sometimes Geelkerken, or Geilekerck) (fl. 1600-1656) a Dutch cartographer from the 17th century, isn't as prominently recognized as some of his peers. However, his contributions to the field are noteworthy and deserve attention. There's some debate over his birthplace; Waller suggests Scherpenzeel in Guelders, Hollstein posits Zutphen, and some even point to Geilenkirchen in Germany due to the similarity in name.
The first known record of Geelkerken's work dates back to 1600, with a depiction of the Castle of Verwolde. Then, a decade-long gap ensues until 1610, when records show his various roles as a draughtsman, engraver, publisher, and surveyor. Initially, he lived in Leiden, briefly in Amsterdam around 1615 and 1616, and later moved to Arnhem after his appointment as the surveyor of Guelders. He passed away on September 25, 1656, and was succeeded by his son Isaak.
In 1610, Geelkerken produced a map of the world titled Universi Orbis Tabula De integro Delineata. This map, printed in Amsterdam, measured 41 by 56 cm and featured allegorical images of the then-known parts of the world. Notably, it showcased the voyages of notable explorers such as Magelhaen, Candish, Drake, and Van Noort.
By 1616, Geelkerken released another world map published by Johannes Janssonius. Although the first edition of this map hasn't been found, later editions from 1618 are available. This map, too, had details about famous explorers, and notably lacked updates about the discoveries of Schouten and Lemaire.
In 1619, Geelkerken published Oost ende West-Indische Spiegel, which detailed the voyages of Joris van Spilbergen and Schouten and Lemaire. Within this work was a world map, which later influenced the works of other cartographers.
One of Geelkerken's projects was also engraving for a map of Pomerania by Eilhard Lubin, which spanned 12 sheets and was quite detailed. Similarly, Geelkerken was involved in creating a map of Palestine in collaboration with his brother Arnoldus Geilkerkius, who had traveled to Palestine.
Apart from these, Geelkerken made significant contributions to the mapping of Friesland. In Ubbo Emmius' De Frisia et Frisiorum Republica, Geelkerken presented detailed plans of the Frisian towns. Furthermore, his map of Frisia, created in 1618, provided a comprehensive view of the region during that time.
Geelkerken's work also included a 1621 map of Rhaetia and his participation in Phil. Cluverius' Italia antiqua in 1624. His dedication to the field was evident in the numerous war-maps and historical prints he engraved, particularly those related to the Julierswar of the early 1610s.
In summary, while Nicolaas Geelkerken might not be the most celebrated cartographer, his dedication to his craft and the multitude of maps he contributed to reflect his essential role in the cartography of the 17th century.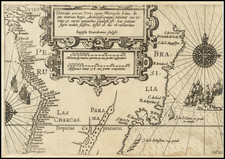 Place/Date:
Amsterdam / 1630 circa
---
Archived