Charles Frederick Cheffins was a British mechanical draughtsman, cartographer, consulting engineer, assistant to John Ericsson and George Stephenson, and surveyor for many British railroad companies in the mid-19th century. He is also known for the 1850 Cheffins' Map of English & Scotch Railways and other maps.
Upon completion of his education, he started working at Messrs. Newton and Son, patent agents and mechanical draughtsmen.
From 1830 he found work under Captain John Ericsson, to assist in making the drawings for the locomotive engines. The next year he became assistant to George Stephenson, and worked in the preparation of the plans and sections of the projected Grand Junction Railway.
On the completion of the parliamentary submissions for the Grand Junction Railway, between 1832 and 1833, he set up his own cartographical and drawing business, and spent over two decades working as surveyor for numerous railroad construction projects in the United Kingdom. In 1838, he published his first Map of the Grand Junction Railway and Adjacent Country; and the next year Cheffins's Official Map of the Railway from London to Birmingham, Manchester and Liverpool under sanction of the directors.
In 1846, Cheffins commissioned John Cooke Bourne to produce his History of the Great Western Railway. Occasionally Cheffins also published lithographical work by others. In the year 1848 he had been elected an Associate of the Institution of Civil Engineers, and continued to take interest in all the proceedings.
His work on a map of the Republic of Texas was probably commissioned directly by Willima Kennedy for his book, Texas: The Rise, Progress, and Prospects of the Republic of Texas, published in London in 1841.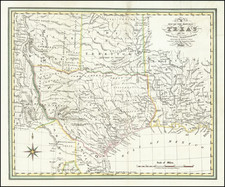 Place/Date:
London / 1841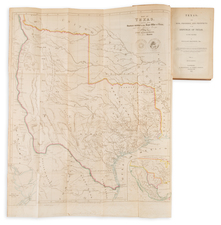 Place/Date:
London / 1841
---
Archived