Matthew Fontaine Maury (often called the Pathfinder of the Seas and the Father of Modern Oceanography and Naval Meteorology) was born on January 14, 1806 in Spotsylvania County, Virginia and raised in Franklin, Tennessee. Maury joined the US Navy in 1825, obtaining an appointment through his connection with Senator Sam Houston (later President of the Republic of Texas).
During the years 1834 to 1841, Maury produced published works on sea navigation and sea journeys. He also began writing political essays pushing for navy reform. In 1842, Maury was appointed superintendant of the Depot of Charts and Instruments of the Navy Department in Washington. In this position he began publishing his research on oceanography and meterology, as well as charts and sailing directions. By the fall of 1853 Maury had become internationally recognized for his work. He was sent to an international congress at Brussels as the United States representative. Maury's system of recording the oceanographic data of naval vessels and merchant marine ships was thereafter adopted world-wide. In 1855, he published The Physical Geography of the Sea, which is now credited as "the first textbook of modern oceanography."
Like his friend Robert E. Lee Maury was strongly anti-secession, but also like Lee his loyalty to his home state of Virginia superseded that to the Union. After Virginia's secession Maury resigned his commission and was commissioned first as Commander of the Virginia navy and then as a Commander in the Confederate navy, in charge of its Naval Bureau of Coast, Harbor, and River Defense. In this latter capacity he helped develop an electrically-controlled mine, which throughout the war caused much damage to blockading vessels of the Union Navy. In the Fall of 1862 he was sent to Europe, where he spent the remainder of the war seeking—with little success–to acquire ships and supplies and to encourage European nations to intervene on the side of the Confederacy.
At war's end he traveled to Mexico, where he participated in a short-lived scheme to encourage former Confederates to emigrate and establish a slaveholding colony. After receiving a pardon from the Federal Government, he returned to Virginia in 1868 and took a professorship at the Virginia Military Institute, a position he held until his death in 1873. During this time he produced the Physical Survey of Virginia and lectured extensively both in the United States and abroad.
Maury did not own slaves, but the historical record demonstrates his support for the institution. As a result he is very much back in the news today: In July 2020 the mayor of Richmond ordered his statue removed from its location, and Maury Lake on the grounds of the Mariners' Museum in Newport News has been renamed. His supporters can take comfort in the many historical markers still dedicated to him, as well as the USNS Maury and even Maury Crater on the Moon.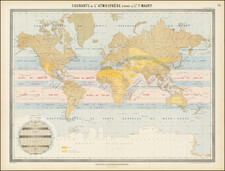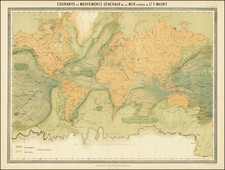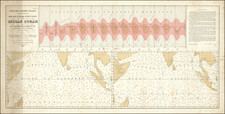 Place/Date:
Washington, D. C. / 1860
Size:
35.5 x 17.25 inches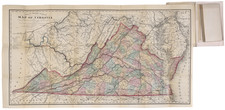 Place/Date:
Richmond, VA / 1868
Size:
5.5 x 8.5 inches (pamphlet)
---
Archived