John Woodhouse Audubon, born in 1812 in Henderson, Kentucky, was the second son of the renowned ornithologist and artist, John James Audubon. Despite often existing in the shadow of his eminent father, John Woodhouse carved out his own niche in the field of natural history illustration and was a significant contributor to the scientific explorations and recordings of 19th-century America.
Early Life and Education
John Woodhouse grew up immersed in the world of ornithology, naturalism, and art, given his father's groundbreaking work on The Birds of America. This upbringing, filled with travels and fieldwork, equipped him with the skills and passion to follow in his father's footsteps. As a boy, he accompanied his father on many expeditions, serving both as an assistant and absorbing the intricacies of nature study.
Professional Journey
By the 1830s, John Woodhouse began to play a pivotal role in his father's work. Notably, he contributed several illustrations to his father's monumental Birds of America. Recognizing his son's talent, John James Audubon sent John Woodhouse to Europe to receive formal training in the arts, fortifying his natural skills with the techniques of the time.
Upon his return, John Woodhouse took on an even more significant role in his father's endeavors. His contribution became especially vital during the creation of the octavo edition of Birds of America, where he assisted not just in producing illustrations but also in managing the logistics of the ambitious project.
Following the success of Birds of America, the Audubons set their sights on a new project, "The Viviparous Quadrupeds of North America". It was during this project that John Woodhouse's contributions became even more pronounced. With his father's health declining, he took on the responsibility of traveling the American frontier, sketching and observing the mammals of North America. His illustrations, particularly of mammals like the Silver Fox, highlighted his keen observation skills and his meticulous attention to detail.
Later Life and Legacy
After the passing of John James Audubon in 1851, John Woodhouse continued to promote and sell his father's works, ensuring their legacy in American natural history. However, the financial strains of the projects and the costs of maintaining the family estate, Minnie's Land, weighed heavily on him.
John Woodhouse Audubon passed away in 1862, but his contributions to American naturalism, particularly his work on The Viviparous Quadrupeds of North America, remain an invaluable testament to the scientific and artistic explorations of the 19th century. He may have begun his career in the shadow of his illustrious father, but through dedication and talent, he left a legacy in his own right.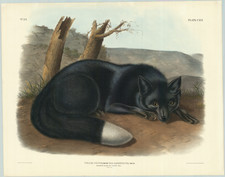 Place/Date:
Philadelphia / 1847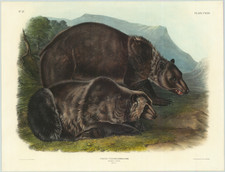 Place/Date:
Philadelphia / 1848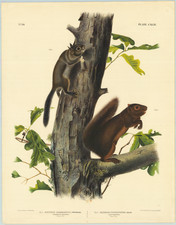 Place/Date:
Philadelphia / 1848