The item illustrated and described below is sold, but we have another example in stock. To view the example which is currently being offered for sale, click the "View Details" button below.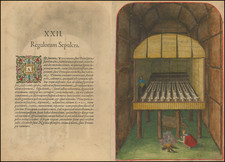 1591 Theodor De Bry
$ 975.00
Description
Regulorum Sepulcra XXII, engraved by Theodor de Bry and published in Frankfurt in 1591, provides a detailed depiction of the burial practices of a Werowan, a leader of the Powhatan Indian tribe. The illustration brings to light the specific customs and methods the Powhatan employed for their deceased leaders, emphasizing their cultural significance and practices.
During the latter part of the 16th century, European expeditions to the New World sought to chronicle and understand the indigenous cultures they encountered. Theodor de Bry's works served as visual records for Europeans, offering a window into the customs and lives of these indigenous groups. In Regulorum Sepulcra XXII, the processes involved in the Powhatan funerary rituals are laid bare, from the separation of flesh from bone to the preservation of the remains on an elevated platform.
The presence of the idol "KIWASA" in proximity to the bodies indicates its importance in Powhatan spiritual beliefs, possibly as a guardian or protector of the deceased. The mention of a priestly figure dwelling beneath the platform further reinforces the continuous and profound respect accorded to the tribe's leaders, even in death.
Through Regulorum Sepulcra XXII, de Bry offers a straightforward, yet informative, perspective on the Powhatan's burial customs, emphasizing the tribe's respect for their leaders and the rituals that surrounded their passing.
Condition Description
Some toning and minor wear at centerfold.
Theodor De Bry Biography
Theodor de Bry (1528-1598) was a prominent Flemish engraver and publisher best known for his engravings of the New World. Born in Liege, de Bry hailed from the portion of Flanders then controlled by Spain. The de Brys were a family of jewelers and engravers, and young Theodor was trained in those artisanal trades.
As a Lutheran, however, his life and livelihood were threatened when the Spanish Inquisition cracked down on non-Catholics. De Bry was banished and his goods seized in 1570. He fled to Strasbourg, where he studied under the Huguenot engraver Etienne Delaune. He also traveled to Antwerp, London, and Frankfurt, where he settled with his family.
In 1590, de Bry began to publish his Les Grands Voyages, which would eventually stretch to thirty volumes released by de Bry and his two sons. The volumes contained not only important engraved images of the New World, the first many had seen of the geographic novelties, but also several important maps. He also published a collection focused on India Orientalis. Les Grands Voyages was published in German, Latin, French, and English, extending de Bry's fame and his view of the New World.