The item illustrated and described below is sold, but we have another example in stock. To view the example which is currently being offered for sale, click the "View Details" button below.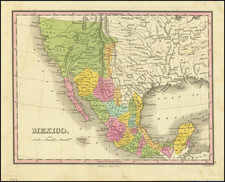 1834 Anthony Finley
$ 1,400.00
Description
Texas & Upper California on the Eve of the American Westerward Expansion.
This is a remarkable map from Anthony Finley's General Atlas, offering an enlightening glimpse of Texas, Upper California, New Mexico, and Mexico as they were known in 1828. This edition offers a significant representation of the American Southwest on the cusp of a transformative era in its history.
The map is remarkable in its presentation of Upper California, then known as New Albion and New California, along with the Spanish Intendencies of San Luis Potosi, New Mexico, Durango, and Sonora. This was a period when the first American settlers were slowly making their way into Texas and New Mexico.
A unique feature of the map is its inclusion of the mythical lakes of Timpanogos and Teguayo on the River Buenaventura. These bodies of water are represented as stretching from San Francisco Bay to Salt Lake, a geographical misconception that underscores the limited knowledge of the region at the time.
The map also notably identifies the Carnacaways, an indigenous people, within the borders of Texas, alongside notable settlements such as San Antonio and San Jose. Galveston, Loredo, Mier, and other early place names are also prominently marked.
This map is an indispensable historical resource. It reflects the understanding and misconceptions of the region during the early 19th century, while also signifying a period of imminent transformation and exploration. It documents the region just as American expansion was about to dramatically reshape the geopolitical landscape of the area, making it a valuable artifact for both historical understanding and cartographical study.
Condition Description
Original hand-color in full.
Anthony Finley Biography
Anthony Finley (1784-1836) was an American map publisher. Little is known about his life. He is presumed to have been born in Philadelphia, where he also died. A publisher, Finley was also involved in several Philadelphia civic and professional societies such as the Philadelphia Apprentices' Library. He may have been in business as early as 1809 and his first publication dates from ca. 1811.
His first maps also date from this year, with two maps in Daniel Edward Clarke's Travels in Various Countries of Europe, Asia, and Africa. The first atlas published by Finley appeared in 1818, the Atlas classica, or, Select maps of ancient geography, both sacred and profane, for the use of colleges and schools in the United States. He is best known for his A New General Atlas Comprising a Complete Set of Maps (1824), which was a bestseller. There were two editions in 1824, with annual editions until 1834.
Finley was part of the first generation of American publishers who produced high quality, precise maps on American soil. He was in competition with other Philadelphia publishers, for example Henry S. Tanner. Finley's A New American Atlas Designed Principally to Illustrate the Geography of the United States of America (1826) closely mirrors Tanner's A New American Atlas Containing Maps of the Several States of the North American Union, with similar groupings of maps; the main difference is the smaller scale of Finley's maps. Finley printed two editions of this atlas.