The item illustrated and described below is sold, but we have another example in stock. To view the example which is currently being offered for sale, click the "View Details" button below.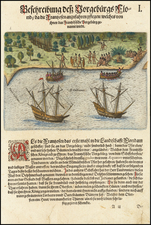 1655 Theodor De Bry
$ 395.00
Description
One of the earliest obtainable detailed maps of the region around Port Royal. The map shows the French discoveries along the coast of South Carolina. In 1562, the French fleet under the command of Jean Ribaut, first sighted the Florida coast in about 30° north of the equator, at a place they called Dolphin River. After sailing north, the French discovered a broad river, which they called May. After discovering six rivers along the Georgian coast, the proceeded further north, where they discovered a river 3 miles wide, which they called Port Royal, marked on De Bry's engraving as Portus Regalis, sive F.S. Helenæ. They anchored within, in ten fathoms of water and later sail up its northern tributaries to explore. After twelve miles they came across a group of Indians roasting a lynx, so they call that part Lynx Point, marked on the engraving Prom. Lupi. A nice example with German text. Reinforced on the verso for support.
Theodor De Bry Biography
Theodor de Bry (1528-1598) was a prominent Flemish engraver and publisher best known for his engravings of the New World. Born in Liege, de Bry hailed from the portion of Flanders then controlled by Spain. The de Brys were a family of jewelers and engravers, and young Theodor was trained in those artisanal trades.
As a Lutheran, however, his life and livelihood was threatened when the Spanish Inquisition cracked down on non-Catholics. De Bry was banished and his goods seized in 1570. He fled to Strasbourg, where he studied under the Huguenot engraver Etienne Delaune. He also traveled to Antwerp, London, and Frankfurt, where he settled with his family.
In 1590, de Bry began to publish his Les Grands Voyages, which would eventually stretch to thirty volumes released by de Bry and his two sons. The volumes contained not only important engraved images of the New World, the first many had seen of the geographic novelties, but also several important maps. He also published a collection focus on India Orientalis. Les Grands Voyages was published in German, Latin, French, and English, extending de Bry's fame and his view of the New World.