The item illustrated and described below is sold, but we have another example in stock. To view the example which is currently being offered for sale, click the "View Details" button below.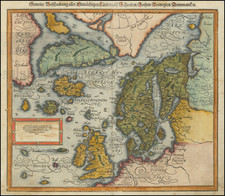 1579 circa Sebastian Munster
$ 1,800.00
Description
The Top of the World, from an Influential Geographic Text
Fine, early regional map of Scandinavia, Iceland, the Baltic, the North Sea and the North Atlantic regions. It was first issued in the 1579 German edition of Sebastian Münster's Cosmographia, one of the most influential geographical works of the sixteenth century.
The Cosmographia first appeared in 1540 and was subsequently reprinted in many editions. Over time, some of the original woodcuts needed to be replaced. This is the third, and final map of Scandinavia included in the Cosmographia. It was added by Sebastian Petri, the son of the original publisher of the work, and it is an early derivative of Abraham Ortelius' 1573 map of the North Sea.
The map shows a large area, stretching from Russia and Northern Europe, through Scandinavia, to the British Isles, Iceland, and the northeast of North America. Land seems to cluster around the North Pole, but waterways north of Russia and North America suggest a navigable Northwest Passage, although the body of water near Russia is called the Frozen Sea.
Greenland is shown much smaller than its actual size, surrounded by many other islands. Some of those islands are fanciful. These include Frisland, near Iceland. Further west, Estotiland is shown as a part of North America. The latter, like Frisland, originated from the apocryphal fourteenth-century Venetian voyage by the brothers Zeno.
Other mythical features abound, including the islands of St. Brendan, Brazil, and Groclandt. Frisland, with Estotilandt, St. Brendan, and Brazil will be discussed below. Groclandt was supposedly an island west of Greenland. Mercator included the feature on his 1569 world map and it was picked up by other cartographers from there and repeated until the early seventeenth century.
The Cosmographia was hugely popular in addition to being influential for contemporary cartographers like Mercator and Ortelius. It was published in at least 35 editions by 1628; these editions included examples in German, Latin, French, Italian, English, and Czech.
Münster was widely traveled himself, but he also gathered sources for the work from ancient and more modern sources. These included Herodotus, Strabo, and Titius Livius, as well as Marcantonio Sabellico, Beatus Rhenanus, and Aegidius Tschudi. He additionally collected reports from recent travelers, which he integrated into his descriptions. These descriptions included detailed overviews of the customs, dress, and organization of peoples around the world, earning him a prominent place in the histories of geography and anthropology.
Mythical islands of the North Atlantic
The North Atlantic is especially prone to mythical or elusive islands, a result of the rich seafaring cultures that border it and the intensity of the expansion and commercial trade of European empires in the Atlantic World.
Perhaps the most famous of the Atlantic mythical islands is Frisland, near Iceland, whose fascinating story and association with the Zeno Map is told elsewhere. Hy Brasil is an enduring Atlantic chimera emerging from Celtic folklore. It ranges on maps from just off the west coast of Ireland to the area around the Azores. The island was initially described as a rich paradise not unlike Atlantis; it emerged from the depths for a short period and then would disappear. It started to appear on portolan charts in the fourteenth century and continued to be a stalwart of maps and charts into the nineteenth century. The island was the subject of a fanciful pamphlet by Richard Head in 1675. Despite no accurate reports of its whereabouts, the island appeared on Admiralty charts and other reputable maps for centuries, usually in the latitude of 51°N and at a longitude of 17°W.
Another island of note is that of St. Brendan. Like Hy Brasil, this island is also connected to Irish lore. St. Brendan, hearing of a promised land from St. Barrind, decided to take a group of monks to find the paradise in the sixth century. After 43 days the monks landed on a deserted island. This is only the first of a series of islands which they encounter, before facing a frozen sea. They have more adventures and eventually return home. The island itself initially appeared near the Canary Islands, but by 1570 Abraham Ortelius placed it near Newfoundland, where it stayed until slowly disappearing from maps in the seventeenth century.
The Zeno Map and the mythical island of Frisland
The Zeno family was part of the Venetian elite; indeed, their family had controlled the monopoly over transport between Venice and the Holy Land during the Crusades. Nicolo Zeno set off in 1380 to England and Flanders; other evidence seems to corroborate this part of the voyage. Then, his ship was caught in a huge storm, blowing him off course and depositing him in the far North Atlantic. He and his crew were wrecked on a foreign shore, the island of Frislanda (sometimes Friesland or Freeland).
Thankfully, the shipwrecked Venetians were found by King of Frisland, Zichmni, who also ruled Porlanda, an island just south of Frisland. Zichmni was on a crusade to conquer his neighbors and Nicolo was happy to help him strategize. Nicolo wrote to his brother, Antonio, encouraging him to join him and, good navigator that he was, Antonio sailed for Frisland and arrived to help his brothers. Together, they led military campaigns against Zichmni's enemies for fourteen years.
Their fights led the brothers to the surrounding islands, presumably enabling them to make their famous map. Zichmni attempted to take Islanda but was rebuffed. Instead, he took the small islands to the east, which are labeled on this map. Zichmni built a fort on one of the islands, Bres, and he gave command of this stronghold to Nicolo. The latter did not stay long, instead sailing to Greenland, where he came upon St. Thomas, a monastery in Greenland with central heating. Nicolo then returned to Frisland, where he died four years later, never to return to Venice.
Antonio, however, was still alive. He ran into a group of fishermen while on Frisland. These fishermen had been on a 25-year sojourn to Estotiland. Supposedly, Estotiland was a great civilization and Latin-speaking, while nearby Drogeo, to the south, was full of cannibals and beasts. Antonio, on Zichmni's orders, sought these new lands, only to discover Icaria instead. The Icarians were not amenable to invasion, however, and Antonio led his men north to Engroneland, to the north. Zichmni was enthralled with this new place and explored inland. Antonio, however, returned to Frisland, abandoning the King. From there, Antonio sailed for his native Venice, where he died around 1403.
News of the discoveries and the first version of the Zeno map was published in 1558 by another Nicolo Zeno, a descendent of the navigator brothers. Nicolo the Younger published letters he had found in his family holdings, one from Nicolo to Antonio and another from Antonio to their other brother, Carlo, who served with distinction in the Venetian Navy. They were published under the title Dello Scoprimento dell'isole Frislanda, Eslanda, Engrouelanda, Estotilanda, & Icaria, fatto sotto il Polo Artico, da due Fratelli Zeni (On the Discovery of the Island of Frisland, Eslanda, Engroenland, Estotiland & Icaria, made by two Zen Brothers under the Arctic Pole) (Venice: Francesco Marcolini, 1558).
At the time of publication, the account attracted little to no suspicion; it was no more and no less fantastic than most other voyage and travel accounts of the time. Girolamo Ruscelli published a version of the Zeno map in 1561, only three years after it appeared in Zeno's original work. Ruscelli was a Venetian publisher who also released an Italian translation of Ptolemy. Ruscelli had moved to Venice in 1549, where he became a prominent editor of travel writings and geography.
Ruscelli was not the only geographer to integrate the Zeno map into his work. Mercator used the map as a source for his 1569 world map and his later map of the North Pole. Ortelius used the Zeno islands in his map of the North Atlantic. Ramusio included them in his Delle Navigationo (1583), as did Hakluyt in his Divers Voyages (1582) and Principal Navigations (1600), and Purchas (with some reservation) in his Pilgrimes (1625). Frisland appeared on regional maps of the North Atlantic until the eighteenth century.
In the nineteenth century, when geography was popular as both a hobby and a scholarly discipline, the Zeno account and map came under scrutiny. Most famously, Frederick W. Lucas questioned the validity of the voyage in The Annals of the Voyages of the Brothers Nicolo and Antonio Zeno in the North Atlantic (1898). Lucas accused Nicolo the Younger of making the map up, using islands found on other maps and simply scattering them across the North Atlantic. He also accused Nicolo of trying to fabricate a Venetian claim to the New World that superseded the Genoan Columbus' voyage. Other research has revealed that, when he was supposed to be fighting for Zichmni, Nicolo was in the service of Venice in Greece in the 1390s. He is known to have drafted a will in 1400 and died—in Venice, not Frisland—in 1402.
Scholars still enjoy trying to assign the Zeno islands to real geographic features. For example, Frisland is thought to be part of Iceland, while Esland is supposed to be the Shetlands. Some still believe the Zenos to have sailed to these lands. Most, however, view the voyage and the map as a reminder of the folly and fancy (and fun) of early travel literature and cartography. Whatever the truth, the Zeno map and its islands are one of the most enduring mysteries in the history of cartography.
Reference
Burden, P.D. #68; Ginsberg, W.B. (Septentrionalium) #23; Ginsberg, W.B. (Scandia) #26. Nordenskiold; p. 52ff. KAP
Sebastian Munster Biography
Sebastian Münster (1488-1552) was a cosmographer and professor of Hebrew who taught at Tübingen, Heidelberg, and Basel. He settled in the latter in 1529 and died there, of plague, in 1552. Münster made himself the center of a large network of scholars from whom he obtained geographic descriptions, maps, and directions.
As a young man, Münster joined the Franciscan order, in which he became a priest. He then studied geography at Tübingen, graduating in 1518. He moved to Basel, where he published a Hebrew grammar, one of the first books in Hebrew published in Germany. In 1521 Münster moved again, to Heidelberg, where he continued to publish Hebrew texts and the first German-produced books in Aramaic. After converting to Protestantism in 1529, he took over the chair of Hebrew at Basel, where he published his main Hebrew work, a two-volume Old Testament with a Latin translation.
Münster published his first known map, a map of Germany, in 1525. Three years later, he released a treatise on sundials. In 1540, he published Geographia universalis vetus et nova, an updated edition of Ptolemy's Geographia. In addition to the Ptolemaic maps, Münster added 21 modern maps. One of Münster's innovations was to include one map for each continent, a concept that would influence Ortelius and other early atlas makers. The Geographia was reprinted in 1542, 1545, and 1552.
He is best known for his Cosmographia universalis, first published in 1544 and released in at least 35 editions by 1628. It was the first German-language description of the world and contained 471 woodcuts and 26 maps over six volumes. Many of the maps were taken from the Geographia and modified over time. The Cosmographia was widely used in the sixteenth and seventeenth centuries. The text, woodcuts, and maps all influenced geographical thought for generations.