The item illustrated and described below is sold, but we have another example in stock. To view the example which is currently being offered for sale, click the "View Details" button below.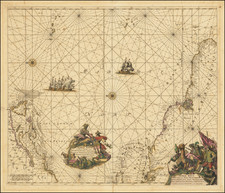 1675 Frederick De Wit
$ 1,600.00
Description
Van Santen Color & Gold
Fine old color gold heightened example of the first edition of De Wit's map of the Western Atlantic, Northeastern Coast of North America and part of South America and the Caribbean, from his Orbis Maritimus ofte Zee Atlas.
Extends from Newfoundland and the St Lawrence River to the area near San Salvador, Brazil, including the eastern Caribbean, from Hispaniola eastward. Nice detail along the Atlantic Coast, includes Lange (Long) Island, Manathans (Manhattan) Island, Nieu Amsterdam, Staaten Island, Zuydt (East) River, and similar detail around Cape Cod and New England Coastline.
This attractive sea chart assumes the perspective of the westward direction facing upwards and embraces the Western Atlantic Ocean from the Canaries and Azores, in the east, to the eastern reaches of the American continents. It features North America from Delaware up to and including Newfoundland, the West Indies from Hispaniola through to the Barbados, and South America from eastern Colombia through to Pernambuco, Brazil.
Two allegorical cartouches, sea battles and compass roses.
Scarce first edition in fine color, which was later copied by Ottens (1715) and Renard (1745).
Dirk Jansz. Van Santen Hand-Coloring
The map bears several features characteristic of Van Santen's work. Namely, the borders are colored in a rich red, with carmine red painted over and replacing the engraved neatlines. Gold is used lavishly throughout the maps, in the graticulated borders (alternating with ultramarine and carmine), on the equatorial and tropical lines, on some of the coastlines, on cities, over toponyms, on compass roses, and most impressively throughout the cartouches to improve and accentuate the garments, jewelry, and decorative elements, as well as the titles themselves.
Condition Description
Superb original hand-color, heightened with gold.
Frederick De Wit Biography
De Wit (1629 ca.-1706) was a mapmaker and mapseller who was born in Gouda but who worked and died in Amsterdam. He moved to the city in 1648, where he opened a printing operation under the name of The Three Crabs; later, he changed the name of his shop to The White Chart. From the 1660s onward, he published atlases with a variety of maps; he is best known for these atlases and his Dutch town maps. After Frederik's death in 1706, his wife Maria ran the shop for four years before selling it. Their son, Franciscus, was a stockfish merchant and had no interest in the map shop. At the auction to liquidate the de Wit stock, most of the plates went to Pieter Mortier, whose firm eventually became Covens & Mortier, one of the biggest cartography houses of the eighteenth century.