The item illustrated and described below is sold, but we have another example in stock. To view the example which is currently being offered for sale, click the "View Details" button below.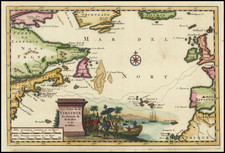 1715 Pieter van der Aa
$ 975.00
Description
Striking map focusing on the Trans-Atlantic exploration route from England to the Cape Cod region, depicting the first permanent colonization of America by the English, from Vander Aa's Dutch translation of the account of the voyage of Bartholomew Gosnold to the coast of Massachusetts in 1602.
Details include Roanoke Inlet, Jamestown, Chesapeake Bay, Boston, and Martha's Vineyard. Vander Aa was one of the great compilers of early voyages. Many of these voyages did not include contemporary maps, making Vander Aa's accounts, the only obtainable graphical representations of the voyage.
Bartholomew Gosnold was born in Grundisburgh in Suffolk, England in 1572. He graduated from the University of Cambridge and studied law at Middle Temple. Gosnold was a friend of Richard Hakluyt and sailed with Walter Raleigh. He obtained backing to attempt a colony in the New World and in 1602 sailed from Falmouth in a small Dartmouth bark, the Concord, with thirty-two on board. They intended to establish a colony in New England, which was then known as Northern Virginia.
Bartholomew Gosnold followed a direct sailing route due west from the Azores to New England, arriving in May 1602 at Cape Elizabeth in Maine. He skirted the coastline for several days before anchoring in York Harbor, Maine, on May 14, 1602. The next day, he sailed into Provincetown Harbor, where he is credited with naming Cape Cod. Following the coastline for several days, he discovered Martha's Vineyard and named it after his daughter, Martha . He established a small post on Elizabeth's Island, which is now called Cuttyhunk Island and is part of the town of Gosnold. The post was abandoned when the settlers decided to return on the ship to England since they had insufficient provisions to survive the winter.
A notable account of the voyage, written by John Brereton, one of the gentlemen adventurers, was published in 1602, and this helped in popularizing subsequent voyages of exploration and colonization of the northeast seaboard of America. A second account by Gabriel Archer was not published until over 20 years later, after Gosnold's death.
Pieter van der Aa Biography
Pieter van der Aa (1659-1733) was a Dutch mapmaker and publisher who printed pirated editions of foreign bestsellers and illustrated books, but is best known for his voluminous output of maps and atlases. Van der Aa was born to a German stonecutter from Holstein. Interestingly, all three van der Aa sons came to be involved in the printing business. Hildebrand was a copper engraver and Boudewyn was a printer.