The item illustrated and described below is sold, but we have another example in stock. To view the example which is currently being offered for sale, click the "View Details" button below.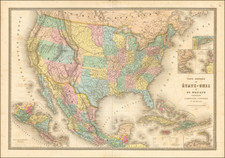 1862 Eugène Andriveau-Goujon
$ 475.00
Description
From A Distinguished 19th Century French Collection
Detailed large format map of the United States.
The map is colored by provinces. Includes excellent topographical and geographical detail.
The map includes the stamp of Capitaine Bocher, which would be René Paul Emmanuel Bocher.
Capitaine Bocher
René Paul Emmanuel Bocher (1835-1919) rose to the level of General in the French Military, Knight of the Legion of Honor, Senator, artist, engraver and was a well regarded art critic and author.
Bocher came from a distinguished family which included a senator and a general. But Bocher is known today principally as a writer on art, the author of catalogs of the works of Gavarni, Lavreince, Baudouin, Chardin, Lancret, St. Aubin and Moreau le Jeune as well as other studies.
Bocher's own collection focused on the original drawings for book illustrations, of which he had a massive and important assembly. He also had a collection of prints and drawings by Charlet, said to have been obtained from his father-in-law, the Count de Pajol. The illustration drawings were apparently sold privately and probably the Charlet prints as well, for the two auctions of Bocher's estate, in 1921 and 1922, mention only paintings and some old master drawings among the furniture, bronzes and objets d'art.
The Map
Published shortly after the Gadsden Purchase, the map shows a marvelous set of western territorial configurations.
Washington Territory and Oregon Territory extend to the Rocky Mountains, pre-dating the creation of Idaho. A massive Nebraska Territory is shown, pre-dating the creation of Montana, Wyoming, North and South Dakota and Colorado (Fort Vrain is in southwestern Nebraska Territory). To the south, Nebraska includes what would become the eastern half of Colorado.
Utah Territory includes all of Nevada and part of Colorado. New Mexico also includes a part of Colorado, along with Arizona, which is shown below New Mexico, without a boundary line, at a time when the creation of Arizona Territory was actively under consideration.
Rarity
This 1860 edition is quite rare on the market. This is the first example we have seen.
Condition Description
Dissected and laid on linen, as issued.